Dinner recipes
We have more than 60 delicious, flexible recipe ideas with step-by-step instructions to help you make quick and easy, healthier family dinners.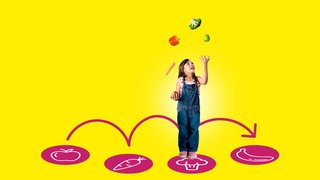 Join today and set simple, easy-to-achieve goals and track your progress to help your family cut down on sugar, enjoy cooking together and get their 5 A Day.
A family meal plan for the week
To help you get going, we've put together 7 simple meals with "swaptional" ingredients to help make eating easy.
It only takes around 30 minutes to get food on the table for many of them, and we've made it simple to see which ingredients you can either swap or just leave out entirely – perfect for when you need a quick dinner with what you have to hand.