Good old fish and chips recipe
Make your own healthier version of fish and chips at home!
Prep: 20 mins
Cook: 20 mins
Serves 4
Nutritional information

Per serving:

1,682kJ / 402kcal
34g protein
56g carbohydrate of which 3g sugars
6g fat of which 1g saturates
4g fibre
1g salt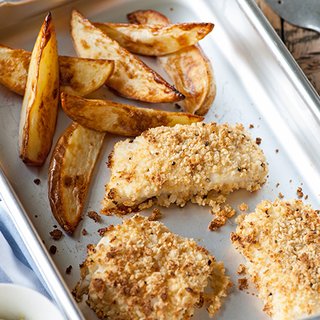 Ingredients
4 potatoes, scrubbed, each cut into 8 wedges
1 tablespoon vegetable oil
75g dried white or wholemeal breadcrumbs
1 egg, beaten with 2 tbsp cold water
4 fillets skinless white fish, like haddock, cod or pollock
Swappable or optional
300g mushy peas
1 pinch ground black pepper (optional)
Swap tip
You can use any frozen, fresh or canned peas if you don't have mushy ones.
Method
Preheat the oven to 200C (fan 180C, gas mark 6). Lightly grease a baking sheet with a little vegetable oil.

Put the potato wedges into a roasting tin. Add the remaining vegetable oil and toss to coat. Season with black pepper. Transfer to the oven to bake for 35 to 40 minutes, turning them over after 20 minutes.

Information:

Not peeling the potatoes means you get more fibre in your diet – and they're quicker to prepare.

Meanwhile, sprinkle the breadcrumbs onto a large plate. Season with a little pepper. Dip each fish fillet in the beaten egg, then coat in the breadcrumbs. Place on the baking sheet, then transfer to the oven when you turn the potatoes, so that it cooks for 15 to 20 minutes. To check that the fish is cooked, it should flake easily when tested with a fork.

Information:

Look out for dried breadcrumbs flavoured with lemon or spices to add extra flavour to the fish, or add some finely grated lemon zest or a pinch of paprika to plain dried breadcrumbs.

Heat the mushy peas in a saucepan, then serve with the fish and chips.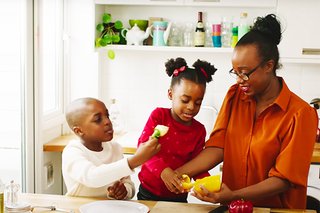 Get the family involved and make tasty meals from scratch!
Every week for 4 weeks you will get 2 healthy recipes – with videos, easy-to-follow instructions and a shopping list – straight to your inbox.