Meatballs and sauce recipe
An easy way to round up a hearty meal for the family and include some of your 5 A Day.
Prep: 15 mins
Cook: 35 mins
Serves 4
Nutritional information

Per serving (1/4 recipe):

1,339kJ / 320kcal
19g protein
46g carbohydrate, of which 9g sugars
8g fat, of which 0.5g saturates
4g fibre
0.2g salt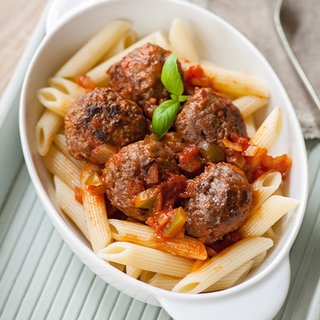 Ingredients
1 medium onion, finely chopped
2 garlic cloves, finely chopped
200g any type of mince (lean if possible)
1 tablespoon olive or sunflower oil
1 tin chopped tomatoes (400g)
200g any type of dried pasta, like fusilli
Swappable or optional
200g mushrooms, sliced
1 pepper, any colour, chopped
2 teaspoons dried mixed herbs
2 tablespoons tomato purée (optional)
Swap tip
Don't worry if you don't have all of the ingredients: you can swap some for whatever you do have, or leave them out completely. The recipe will still be delicious!
Method
Mix some of the chopped onion and garlic with the mince. Shape the mince into small balls about half the size of a golf ball.

Information:

Try using turkey mince as a lower-fat alternative to lamb.

Heat the oil in a non-stick frying pan and brown the meatballs on all sides. Remove and put on to a plate.

Add the remaining onion to the frying pan and cook for 2 to 3 minutes until soft. Add the remaining garlic and cook for another minute.

Add the tomatoes, tomato purée, herbs, mushrooms and peppers to the pan with 150ml water. Bring to the boil, then add the meatballs. Reduce the heat, cover with a lid and simmer for 30 minutes.

About 10 minutes before serving, put the pasta on to cook in plenty of boiling water. Serve with the meatballs and tomato sauce.

Information:

Serve with wholegrain brown rice as an alternative to pasta, but remember that it takes 25 to 30 minutes to cook.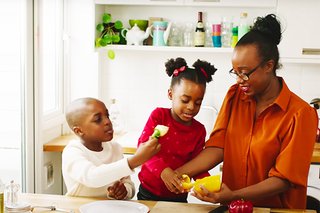 Get the family involved and make tasty meals from scratch!
Every week for 4 weeks you will get 2 healthy recipes – with videos, easy-to-follow instructions and a shopping list – straight to your inbox.