Vegetable frittata recipe
This is a lovely thick omelette made for 4, served cut into wedges.
Prep: 10 mins
Cook: 12 mins
Serves 4
Nutritional information

Per serving (1/4 recipe):

923kJ / 222kcal
14g protein
17.5g carbohydrate, of which 3g sugars
11g fat, of which 3g saturates
2.5g fibre
0.7g salt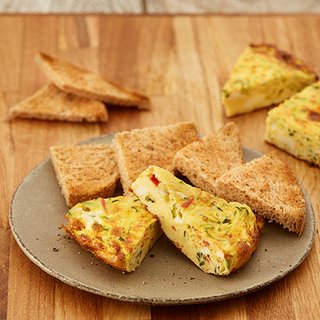 Ingredients
2 teaspoons vegetable oil
6 eggs
2 tablespoons milk
4 slices bread (wholemeal if possible)
Swappable or optional
2 tomatoes, chopped
1 courgette, coarsely grated
1 pinch ground black pepper (optional)
Swap tip
You can replace these vegetables with other family favourites, like peas, sweetcorn or a little bit of thinly cut pepper, mushrooms or onion! Or try spinach for a seasonal twist.
Method
Turn the grill on to preheat to a medium-high temperature.

Heat the vegetable oil in a non-stick frying pan. Add the courgette and tomatoes and cook on the hob for 3 to 4 minutes, stirring often, until soft. Spread out over the base of the frying pan.

Information:

If you use a good non-stick frying pan the frittata will be easy to remove.

Beat the eggs and milk together and pour into the frying pan. Cook over a medium-low heat for 4 or 5 minutes to set the base, then transfer to the grill to set the surface – about 3 minutes. Remove from the heat and let the frittata cool for 3 or 4 minutes.

Information:

Take care not to cook over a high heat, or else the base could brown too much before the middle of the frittata is cooked.

Toast the slices of bread. Slice the frittata into wedges and serve with the toast.

Information:

You could also make the recipe with extra vegetables, such as mushrooms, spring onions and chopped peppers.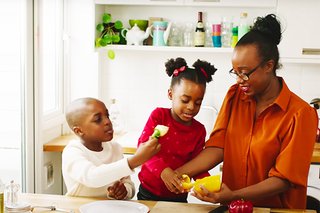 Get the family involved and make tasty meals from scratch!
Every week for 4 weeks you will get 2 healthy recipes – with videos, easy-to-follow instructions and a shopping list – straight to your inbox.