Better Health – Healthier Families home
Easy ways to eat well and move more
Welcome to the new home of Change4Life. We have a new name and look, but don't worry – we're still here to help you and your family eat better and move more.
Download the free NHS Food Scanner app
A speedy scan of your family's favourite products reveals a range of healthier swaps for next time you shop.
It's as easy as scan, swipe, swap!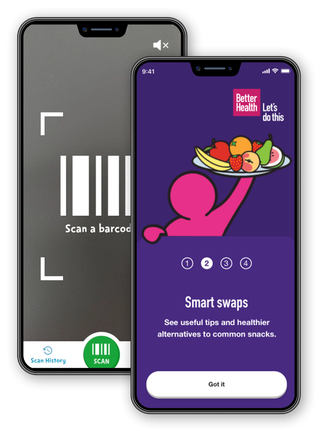 Video: Try the NHS Food Scanner app
The free NHS Food Scanner app now gives you swap suggestions, which means finding healthier choices for your family is easier than ever! Download the app today.
Keep an eye on your vitamin D
It's that time of year when we cannot make enough vitamin D from sunshine.
To keep bones and muscles healthy, it's best to take a vitamin D supplement every day between October and early March. 
Vitamin D supplements are available from most pharmacies, supermarkets and other retailers. Just 10 micrograms a day is all you need – it's the same for kids and grown-ups.

Get the free NHS Food Scanner app
Start finding healthier swaps today!