Pua and the Coconut Harvest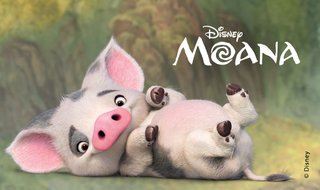 The coconuts are the lifeblood of the villagers on Motunui, and Pua's favourite snack. Now it's time to harvest coconuts for the winter ahead. How many can you collect?
Players: 2 or more
Where to play? Indoors or outdoors
How to play
First you will need a basket or bin. Then grab an old newspaper to make your coconuts – make 20 balls, or you can use rolled-up socks instead.

---

One player holds the basket, while the others stand with their back to the basket and the pile of coconuts in front of them.

---

The players with the coconuts have to throw them over their shoulder without looking, and the person with the basket has to run and try to catch as many as possible.

---

How many coconuts did you catch? Now swap roles! Keep playing for 10 minutes to see if you can beat your record.