Apple, apricot and sultana squares recipe
Perfect for packed lunches and picnics, and a tasty treat with a cup of tea too!
Prep: 15 mins
Cook: 20 mins
Makes 16 squares
Nutritional information

Per square:

560kJ / 134kcal
2.5g protein
17.9g carbohydrate, of which 7.5g sugars
5.4g fat, of which 1.9g saturates
1.7g fibre
0.1g salt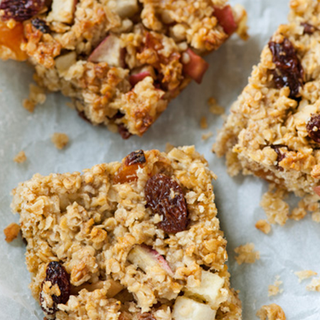 Ingredients
100g lower-fat spread
4 tablespoons golden syrup
250g high-fibre porridge oats
1 apple, cored and chopped into small chunks
50g ready-to-eat apricots, chopped
50g sultanas or raisins (or a mixture)
half a teapsoon ground mixed spice (optional)
1 egg, beaten
Method
Preheat the oven to 180C (fan 160C, gas mark 4). Grease a 23cm (9-inch) shallow square cake tin with a little reduced-fat spread, then line the base with baking parchment or greaseproof paper.

Melt the remaining spread in a large saucepan with the golden syrup. Take care that the mixture doesn't get too hot.

Remove the pan from the heat and add the porridge oats, apple, apricots, sultanas (or raisins) and mixed spice (if using). Stir well.

Information:

If you have a microwave, you can melt the spread and golden syrup in a large microwave-safe bowl for 40 to 50 seconds on high, then add the remaining ingredients as above.

Add the beaten egg and mix well again.

Tip the mixture into the prepared tin and level the surface. Bake for 20 to 25 minutes until firm.

Cool in the tin for about 20 minutes, then cut into 16 squares.

Information:

Store in an airtight container for up to a week, or freeze for up to 3 months.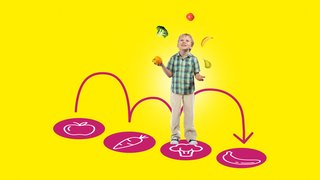 Want the recipe for a healthier family? Join today and over 8 weeks you'll get easy tips from nutrition experts and parents, healthy swaps and tasty recipes on a budget.