Choc cherry popcorn cakes recipe
Make a healthier version of chocolate crispy cakes with this popcorn recipe.
Prep: 10 mins
Cook: 8 mins
Makes 14 cakes
Nutritional information

Per muffin:

204kJ / 48kcal
1.3g protein
8.3g carbohydrate, of which 3.2g sugars
0.9g fat, of which 0.1g of saturates
1.1g fibre
1.1g salt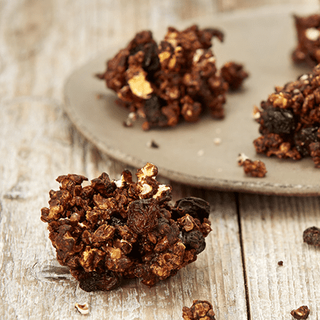 Ingredients
2 teaspoons vegetable oil
100g popping corn
2 egg whites
2 teaspoons unsweetened cocoa powder
65g dried cherries, chopped
Method
Preheat the oven to 180C (fan oven 160C, gas mark 4). Put 14 paper bun cases into bun trays.

Heat the vegetable oil in a large heavy-based saucepan with a tight-fitting lid. Add the popping corn, put the lid on and shake the pan to coat the kernels in the oil. Put the pan over a medium-high heat. The kernels will begin to pop, and when they do, carefully shake the pan occasionally.

Information:

A few popcorn kernels probably won't pop – just remove them.

When the popping stops, remove the pan from the heat. Cool for 5 minutes.

Whisk the egg whites and cocoa powder together in a large bowl. Stir in the cooled popcorn and dried cherries, and then share the mixture between the bun cases.

Information:

You could use sultanas or dried apricots instead of cherries.

Bake for 8 to 10 minutes until set, and leave to cool.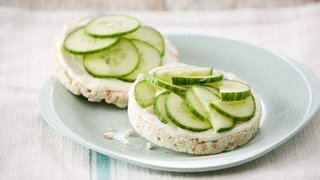 From whipping up simple homemade snacks to picking packaged ones in the shops, learn how to snack smart with these quick and easy ideas!