Piri-piri pomegranate popcorn recipe
It's so cheap and easy to pop your own corn. It's healthier than shop-bought (or cinema) versions and almost infinitely customisable too!
Prep: 5 mins
Cook: 5 mins
Serves 4
Nutritional information

Per serving:

742kJ / 176kcal
5.7g protein
3.4g fat of which 0.4g saturates
27.5g carbohydrate, of which 3.2g sugars
6.5g fibre
0.1g salt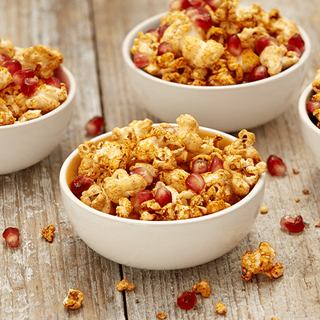 Ingredients
2 teaspoons vegetable oil
160g popping corn
1 teaspoon piri-piri seasoning (or cayenne pepper)
100g ready-prepared fresh pomegranate seeds
freshly ground black pepper
Method
Heat the vegetable oil in a large heavy-based saucepan with a tight-fitting lid. Add the popping corn, put the lid on, and shake the pan to coat the kernels in the oil.

Put the pan over a medium-high heat. The kernels will begin to pop – when they do, carefully shake the pan occasionally.

When the popping has almost stopped, remove from the heat. Leave to cool for 10 minutes, then add the piri-piri seasoning, pomegranate seeds and a little black pepper, stirring them through. Share between 4 small bowls and serve.

Information:

Try your own seasonings, such as lightly toasted cumin and sesame seeds. For a fruitier version, leave out the piri-piri and add chopped apple, blueberries, seedless grapes and a pinch of ground cinnamon.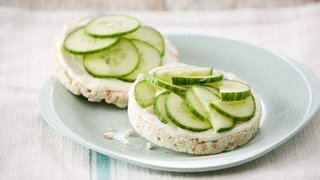 From whipping up simple homemade snacks to picking packaged ones in the shops, learn how to snack smart with these quick and easy ideas!