Panjabi dhal recipe
A hearty traditional dhal that can be served as a main dish, as part of a larger meal or even with bread as a warming soup.
Prep: 5 mins
Cook: 25 mins
Serves 4
Nutritional information

Per serving (1/4 recipe)

1,025kJ / 245kcal
15g protein
28.4g carbohydrate, of which 9.8g sugars
8.2g fat, of which 0.7g saturates
5.4g fibre
1.3g salt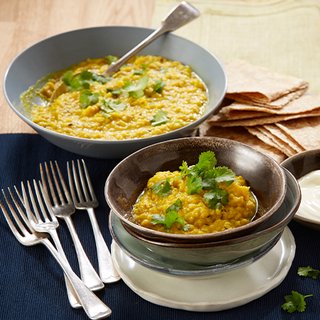 Ingredients
50g red split lentils, washed and drained
170g split mung dhal, washed and drained
1.5 litres water 
1 large onion, finely chopped
4 garlic cloves, finely chopped
4 green chillies, finely chopped 
30ml rapeseed oil 
1 teaspoon salt (optional)
1.5 teaspoons turmeric 
1 teaspoon cumin seeds 
Fresh coriander, finely chopped (to serve)
Swap tip
To reduce the salt content of the dish, try swapping the salt for paprika.
Method
Put the washed mung dhal and red lentils in a large pot, add the water and put on the hob on a low heat. After a few minutes, add the salt and turmeric, stir and bring to the boil. Once boiling, turn the heat down again and leave to simmer, partially covered, for around 15 minutes.

Information:

Reduce the cooking time by soaking the lentils in cold water for 3 or 4 hours before.

Meanwhile, heat the rapeseed oil in a shallow frying pan on medium heat. Add the cumin seeds and fry for 15 seconds, then add the onions and garlic. Once those are soft and beginning to brown (around 5 minutes), add the green chillies, mix well and cook for a further couple of minutes.

Add the mixture from the frying pan to the simmering lentils, stir well and turn up to a medium heat. Once boiling, turn off the heat and remove the pot.

Information:

You can make this a 1-pot recipe simply by adding all the ingredients together in a large pot, bringing to a boil and then simmering on low heat for 25 to 30 minutes. Zero fuss, minimal washing up!

Allow to cool for a few minutes, then top with chopped coriander.

Information:

Serve with rice or chapatis, and plain yoghurt.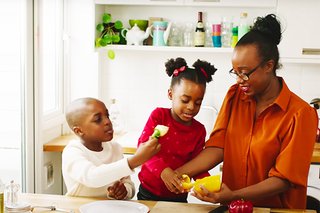 Get the family involved and make tasty meals from scratch!
Every week for 4 weeks you will get 2 healthy recipes – with videos, easy-to-follow instructions and a shopping list – straight to your inbox.