Chicken jalfrezi recipe
This classic spicy chicken dish with peppers is low in fat and super simple to make.
Prep: 15 mins
Cook: 25 mins
Serves 4
Nutritional information

Per serving (1/4 recipe):

1,397kJ / 334kcal
41g protein
7.7g carbohydrate, of which 6.4g sugars
79g fat, of which 6g saturates
6.7g fibre
1.25g salt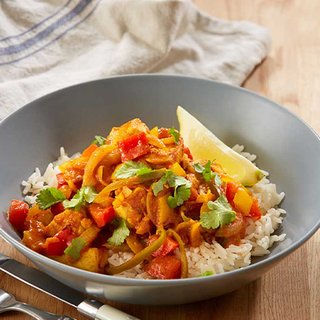 Ingredients
30ml rapeseed oil
700g boneless chicken, cut into cubes
3 medium onions, chopped
2 bell peppers (any colour), chopped
4 green chillies, sliced
4 garlic cloves, finely chopped 
20g fresh ginger, peeled and sliced into thin pieces 
400g tin of chopped tomatoes
1 teaspoon salt (optional)
1 teaspoon turmeric powder
1 heaped teaspoon cumin seeds
1 teaspoon red chilli powder
1 teaspoon of garam masala
1.5 teaspoon coriander powder
250ml water
fresh coriander to serve, finely chopped (optional)
Swap tip
To reduce the salt content of the dish, try swapping the salt for paprika or lemon juice.
Method
Heat the oil in a non-stick pan on a high heat. Add the chicken pieces and cook for 2 minutes. Add the cumin, turmeric, chilli powder and half a teaspoon of salt (if using). Mix well and fry on a medium heat for 3 to 4 mins, stirring frequently to stop the mixture from catching, until the chicken is lightly cooked and starting to turn white.

Remove the chicken and set aside, leaving the oil and juices in the pan. Fry the sliced onions on a medium heat for 7 minutes, until they're soft and beginning to turn golden. While the onions are cooking, blend the tinned tomatoes in a blender, or mash well using a masher or the back of a fork.

Add the ginger, garlic and peppers to the pan and cook for 2 minutes, then add the tomatoes, mix well and cook for another 2 minutes. Stir in the coriander powder, garam masala, cumin seeds and half a teaspoon of salt (if using), and cook for a further minute.

Add the chicken pieces back to the pan, stir well to coat in the mixture and cook for a couple of minutes. Add the green chillies, mix and fry on medium heat for another 2 minutes. Pour the water into the pot and stir, then cover and simmer on low heat for 10 to 15 minutes.

Information:

Try adding some of your favourite veg to bulk out the sauce. Mushrooms and sweetcorn work brilliantly – and add more fibre!

Once the chicken is tender and the sauce has thickened, turn off the heat and scatter over the chopped coriander.

Information:

Serve with rice or chapatis, plain yoghurt and a lemon wedge for extra tang. Enjoy!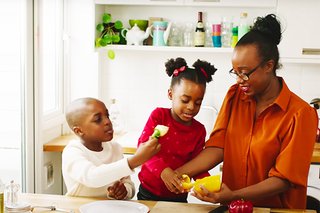 Get the family involved and make tasty meals from scratch!
Every week for 4 weeks you will get 2 healthy recipes – with videos, easy-to-follow instructions and a shopping list – straight to your inbox.