Bharelu shaak recipe
A healthy twist on this classic Gujarati stuffed vegetable dish.
Prep: 15 mins
Cook: 30 mins
Serves 4
Nutritional information

Per serving (1/4 recipe):

586kJ / 140kcal
7g protein
24g carbohydrate, of which 3.1g sugars
7g fat, of which 0.7g saturates
1.3g fibre
0.6g salt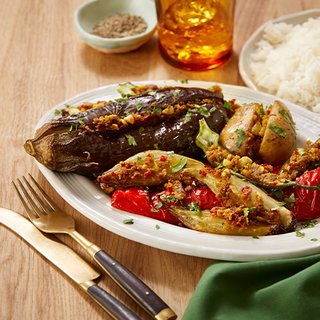 Ingredients
Vegetables
4 small aubergines
6 okra fingers
4 new potatoes
4 long Turkish peppers, slit into halves and de-seeded
3 shallot onions
Stuffing mixture
2 tablespoons unsalted peanuts, crushed
4 tablespoons gram flour
1.5 tablespoons vegetable oil
1 teaspoon garam masala
1 teaspoon garlic paste
0.5 teaspoon salt (optional)
1 teaspoon ginger paste
3 chillies, crushed
0.5 teaspoon turmeric powder
0.5 teaspoon cumin powder
0.5 teaspoon coriander powder
chopped fresh coriander, to serve (optional)
Swap tip
To reduce the salt content of the dish, try swapping the salt for paprika or lemon juice.
Method
Pre-heat the oven to 200C (180C fan, gas mark 5). In a deep baking tray, add a small drop of oil and 240ml water. Using a knife, make slits in all the vegetables, deep and long enough to allow enough space for stuffing them.

In a separate bowl, combine all the ingredients for the stuffing and mix well. Then stuff a few spoonfuls of the mixture into each vegetable.

Place the stuffed vegetables into the oiled tray. If you have any of the stuffing mixture leftover, sprinkle it over the top, then cover with foil, and bake in the oven for 40 minutes or until the potatoes are soft.

Once ready, take out of the oven and leave to cool for a few minutes before serving.

Information:

Serve with a portion of steamed or boiled long grain rice (cooked to packet instructions).