Egg shakshuka recipe
Find out how to make our easy shakshuka recipe – a simple and delicious vegetarian dish of eggs poached in a spicy tomato and vegetable sauce. It's perfect for lunch or a light evening meal.
Prep: 15 mins
Cook: 30 mins
Serves 4
Nutritional information

Per serving (1/4 recipe):

1,751kJ / 417kcal
25g protein
32g carbohydrate, of which 16g sugars
18g fat, of which 3.8g saturates
12g fibre
1.4g salt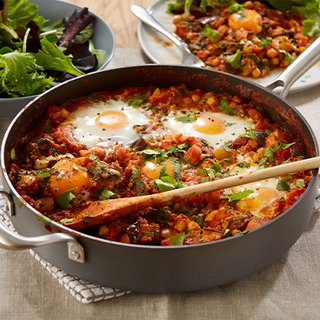 Ingredients
1 tablespoon vegetable oil
1 yellow onion, finely chopped
half a red bell pepper, deseeded and finely chopped
half a yellow bell pepper, deseeded and finely chopped
6 garlic cloves, chopped
1 aubergine, chopped
800g tinned chopped tomatoes
2 tablespoons tomato purée
2 teaspoons ground cumin
400g tinned chickpeas, drained
0.5 teaspoon salt (optional)
0.5 teaspoon cayenne pepper
200g spinach, washed and chopped
6 medium-sized eggs
15g fresh coriander to serve, chopped (optional)
Method
Heat the oil in a large non-stick frying pan on medium heat. Add the onion, peppers and garlic, and cook for about 5 minutes, stirring occasionally, until the vegetables soften.

Stir in the aubergine and cook for another 5 minutes or so, until golden-brown. Add the tomatoes, tomato purée, salt, cumin and cayenne, and stir well. Bring to a boil, then lower the heat and cook for about 10 minutes, until the mixture thickens.

Information:

Try adding or swapping in your favourite vegetables. Mushrooms, courgettes or green beans all work well.

Stir in the chickpeas, cover and cook for further 5 to 8 minutes on medium heat. Once the chickpeas have had time to soften, stir in the chopped spinach and lower the heat.

Using a wooden spoon, create 6 wells in the mixture and crack 1 egg into each. Cover the pan and cook for about 6 to 8 minutes on low, until the egg whites set. If you prefer firmer yolks, cook for around 8 to 12 minutes.

Once the eggs are cooked, take the mixture off the heat and leave to cool for a few minutes. Scatter with chopped coriander and serve.

Information:

Serve with wholemeal pitta or wholegrain crusty bread, and a side salad.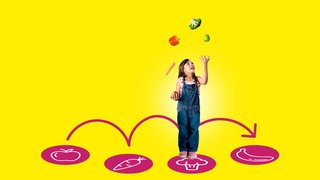 Want the recipe for a healthier family? Join today and over 8 weeks you'll get easy tips from nutrition experts and parents, healthy swaps and tasty recipes on a budget.