Bariis iskukaris recipe
A fast, flavoursome, traditional 1-pot dish from Somalia. This healthy family meal is lower-calorie but packed with authentic flavours.
Prep: 10 mins
Cook: 45 mins
Serves 4
Nutritional information

Per serving (1/4 recipe):

995kJ / 475kcal
48g protein
46g carbohydrate, of which 5.3g sugars
10g fat, of which 2.3g saturates
4.5g fibre
0.7g salt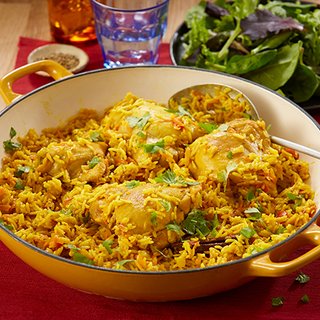 Ingredients
2 teaspoons vegetable oil
150g onion, chopped
4 or 5 cloves of garlic, finely chopped
1 cinnamon stick, or 1 teaspoon ground cinnamon
1 teaspoon cumin seeds
120g fresh tomatoes, chopped
600g skinless chicken thighs with bone, washed 
1 teaspoon ground turmeric
1 teaspoon cumin powder
2 teaspoons ground coriander
1 reduced-salt seasoning cube, crumbled 
100g carrots, grated
200g basmati rice, washed and drained 
600ml water
Method
Heat the oil in a large saucepan, and gently fry the onions and garlic on medium heat for 2 minutes. Add the cinnamon stick (or ground cinnamon), cumin seeds and chopped tomatoes, and cook for 3 minutes on medium heat, stirring frequently.

Add the chicken, turmeric, cumin powder, coriander, crumbled seasoning cube and grated carrot. Mix well and cook on medium-high heat for about 5 minutes, stirring regularly.

Information:

You can use other cuts of chicken, like wings or drumstick, if you prefer. Remove the skin to reduce fat content.

Add 400ml water, cover the pot and leave to cook on medium heat for 15 minutes, until the chicken is nearly done.

Add the rice and stir until it's well coated by the mixture. Add in another 200ml of cold water, stir, then cover the pot and cook on medium-high heat until it starts bubbling (about 5 minutes or so). Once it's bubbling, reduce the heat to low and leave to steam until the rice grains are tender and fluffy – around 10 to 15 minutes.

Information:

If you're batch cooking, this meal freezes brilliantly.

Once ready, serve topped with fresh coriander (if you want) and accompanied by a fresh green salad. Enjoy!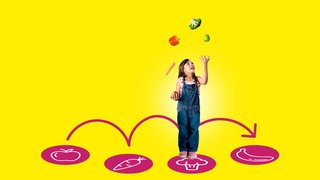 Want the recipe for a healthier family? Join today and over 8 weeks you'll get easy tips from nutrition experts and parents, healthy swaps and tasty recipes on a budget.