Pigeon peas pilau with carrot pickle recipe
This is an ideal first recipe for brown basmati if you have not had it before because turmeric masks the brown colour. All you need is 10 minutes to add everything, then leave the spices to work their magic in this 1-pot wonder!
Prep: 10 mins
Cook: 40 mins
Serves 4
Nutritional information

Per serving (1/4 recipe)

483 kcal/ 2,039kJ
17g protein
83g carbohydrate, of which 9.7g sugars
6.8g fat, of which 1.1g saturates
12g fibre
1.4g salt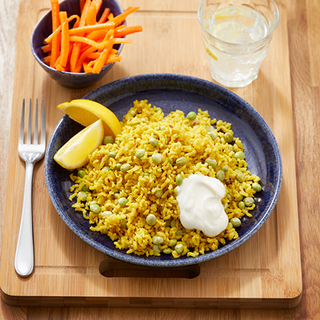 Ingredients
Pilau
300g (about 1.5 mugs) brown basmati rice
320g (about 1.5 mugs) frozen pigeon peas (tuvar or gungo peas)
1 tablespoon rapeseed or vegetable oil
1 teaspoon turmeric (haldi)
1 tablespoon cumin seeds (jeera)
2 cinnamon sticks (dalchini)
4 cloves
4 black peppercorns
1 teaspoon salt (optional)
6 cloves garlic, crushed
1 thumb-sized piece ginger, crushed
1 teaspoon crushed green chillies, or to taste
800ml (about 3 mugs) hot water
Carrot pickle
4 carrots, peeled and cut into strips
juice of half a lime
red chilli powder, to taste
To serve
4 tablespoons low-fat plain yogurt
lemon juice, for drizzling (optional)
Swap tip
Eating too much salt can lead to high blood pressure, so it is best to reduce the amount you have. Try replacing the salt in this dish with paprika or lemon juice.
Method
Add all the ingredients for the pilau into a large non-stick pan. Cover with a tight-fitting lid and heat on high until the water comes to the boil. Once boiling, turn the heat down to medium and cook, still covered, for 25 minutes.

Information:

Frozen pigeon peas are widely available in Asian and African Caribbean food stores.

Meanwhile make the carrot pickle by mixing all the ingredients together.

Gently stir the rice, turn the heat to very low and cook for a further 10 minutes until the water has been fully absorbed and the rice is fluffy.

Drizzle with lemon juice, if using, and serve with plain yogurt and carrot pickle.