Simple rajma curry recipe
Needing just a few tins of kidney beans, tomatoes and some spices, this Gujarati-style dinner can be on the table in about half an hour.
Prep: 10 mins
Cook: 20 mins
Serves 4
Nutritional information

Per serving (1/4 recipe)

446 kcal/ 1,877kJ
20g protein
10g fat, of which 1.2g saturates
63g carbohydrate, of which 8.4g sugars
12g fibre
1.4g salt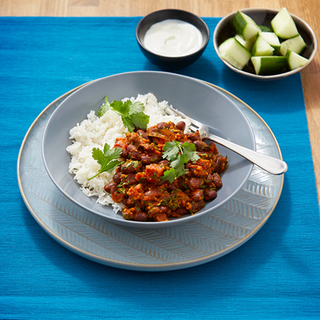 Ingredients
2 tablespoons rapeseed or vegetable oil
1 handful of dried curry leaves
2 teaspoons mustard seeds
2 teaspoons cumin seeds
1 dried red chilli, halved
quarter of a teaspoon hing (asafoetida powder), optional
1 tin chopped tomatoes
3 fresh green chillies, chopped (or red chilli powder, to taste)
3 cloves garlic, crushed
1 thumb-sized piece ginger, grated
half a teaspoon turmeric
2 heaped teaspoons dhana jeera (equal mix of ground cumin and ground coriander seeds)
1 teaspoon salt (optional)
2 tins red kidney beans, drained and rinsed
200ml (about a mugful) hot water
1 handful fresh coriander leaves, roughly chopped
To serve
200g basmati rice, cooked as per packet instructions
half a large cucumber, cut into wedges
4 tablespoons low-fat plain yoghurt
Swap tip
Eating too much salt can lead to high blood pressure, so it's best to reduce the amount you have. A drizzle of lemon juice or a sprinkling of ground garam masala can help to add flavour when not using salt.
Method
Over a medium heat, add the oil to a non-stick pan with a lid. Add the curry leaves, mustard and cumin seeds, halved red chilli and hing, if using. Allow the seeds to pop for about 20 seconds.

Information:

Be very careful not to toast the seeds for too long, as they turn bitter when burnt.

Add the garlic and cook for 1 minute. Stir in the chopped tomatoes, then all the remaining spices and salt, if using. Turn the heat to high and cook the tomatoes for about 10 minutes, stirring frequently to break up the chunks.

Add the rinsed kidney beans and hot water. Cover the pot, and cook over a medium heat for 15 to 20 minutes to soften the beans. Stir occasionally.

Turn off the heat, add the coriander leaves, taste and adjust chilli if needed. Serve with rice, plain yogurt and crisp cucumber wedges.

Information:

If you prefer a thinner sauce, stir in a little more water before serving.