Tandoori chicken quarters recipe
Mimic the intense heat of a tandoor by cooking this flavoursome family favourite in a very hot oven – the prep is super-easy and only needs a handful of readily available ingredients.
Prep: 10 mins
Marinate: Minimum 1 hour
Cook: 35 mins
Serves 4
Nutritional information

Per serving (1/4 recipe)

1821kJ / 432kcal
43g protein
40g carbohydrate, of which 12g sugars
8.5g fat, of which 1.6g saturates
11g fibre
1.3g salt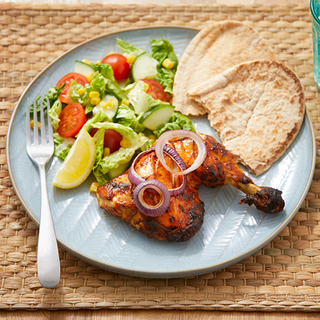 Ingredients
4 skinless chicken quarters (about 950g)
1 red onion, sliced in rings
1 tablespoon oil for brushing
1 teaspoon hot paprika powder
Marinade
120g (about 3 tablespoons) plain low-fat yogurt
2 tablespoons tandoori spice blend (masala powder)
2 teaspoons hot paprika powder
1 tablespoon tomato purée (optional)
juice of 1 lemon
To serve
4 wholemeal pitta breads, warmed
mixed salad
Swap tip
Eating too much salt can lead to high blood pressure, so it's best to reduce the amount you have. Spice blends typically have added salt, and the hot paprika powder in this recipe helps you use less of the tandoori spice blend.
Method
Mix all the marinade ingredients together in a large bowl. Make slits in the chicken, then add to the bowl and use your hands or a wooden spoon to thoroughly coat the meat with the marinade. Refrigerate the mixture for 1 to 3 hours, or overnight.

Information:

Removing the skin from chicken helps you cut down on saturated fat.

When you're ready to cook, preheat the oven to 230C (gas mark 8). Line a baking tray with foil and put a wire rack on top. Put the chicken leg quarters on the rack, and cook at the top of the oven for 10 minutes.

Add the chicken breast quarters and roast for a further 10 minutes.

Lower the heat to 200C (gas mark 6) and cook for another 10 minutes.

Remove the chicken from the oven and switch to grill on a medium-high heat. Brush the meat all over with a little oil, sprinkle on the paprika and place the onion rings on top.

Grill until charred and the juices run clear – about 10 minutes. Serve with mixed salad, warmed pitta bread and plenty of napkins!

Information:

Have salads plain or flavoured with lemon juice and black pepper.