Super stew and dumplings recipe
This wonderfully tasty beef casserole is topped with fluffy dumplings. Great for a chilly evening!
Prep: 20 mins
Cook: 120 mins
Serves 4
Nutritional information

Per serving:

1,284kJ / 307kcal
21g protein
31g carbohydrate, of which 10g sugars
11.5g fat, of which 3.5g saturates
5g fibre
1g salt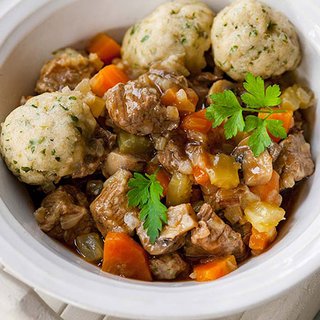 Ingredients
2 teaspoon vegetable oil
280g lean braising steak, cut into chunks
450ml reduced-salt vegetable or chicken stock
2 medium onions, chopped
2 cloves of garlic, crushed
2 carrots, cut into chunks
2 celery sticks, sliced
1 bay leaf
250g closed-cup mushrooms, halved
100g self-raising flour
2 tablespoons fresh parsley, chopped
50g reduced-fat spread
1 pinch ground black pepper
Method
Heat the vegetable oil in a large flameproof casserole dish or saucepan. Add the beef, a handful at a time, and cook over a high heat for about 2 to 3 minutes until sealed and browned.

Information:

Always brown the meat thoroughly to begin with (but don't burn it), as this will give the stew a good flavour.

Pour the stock into the pan, then add the onions, garlic, carrots, celery, bay leaf and mushrooms. Bring to the boil, then reduce the heat. Cover and cook over a low heat for 90 minutes, checking the liquid level from time to time, and topping up with a little water if needed.

Information:

If you're using a casserole dish, you could transfer it to the oven and bake at 180C (160C fan, gas mark 4) for 90 minutes, then add the dumplings and bake for a further 25 to 30 minutes.

To make the dumplings, sift the flour into a bowl and add the parsley and some black pepper. Add the reduced-fat spread to the flour, then rub in with your fingertips until the mixture looks like fine crumbs. Add just enough cold water (about 2 tablespoons) to make a soft dough. Knead the dough lightly for a moment, then form into 12 small dumplings.

Add the dumplings to the stew, letting them sit on the surface. Cover and cook for another 25 to 30 minutes, until the dumplings are light and fluffy, then serve.

Information:

Be sure to serve the casserole with plenty of fresh or frozen vegetables, such as broccoli, cabbage, leeks or peas, to help towards your 5 A Day.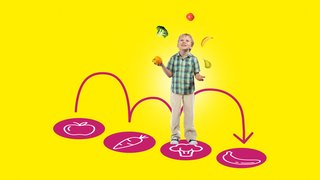 Want the recipe for a healthier family? Join today and over 8 weeks you'll get easy tips from nutrition experts and parents, healthy swaps and tasty recipes on a budget.