Old school sausage and mash recipe
Classic bangers with delicious, veg-boosted mash to help get your 5 A Day!
Prep: 20 mins
Cook: 25 mins
Serves 4
Nutritional information

Per serving:

1,339kJ / 320kcal
21g protein
51g carbohydrate, of which 12g sugars
5g fat, of which 1g saturates
7g fibre
0.8g salt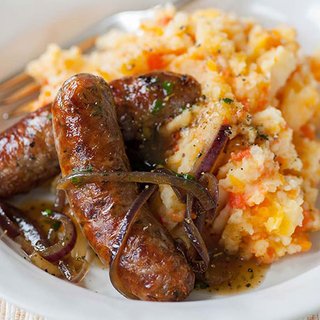 Ingredients
4 carrots (about 300g), chopped
300g swede or turnip, cut into chunks
700g potatoes, cut into chunks
8 reduced-fat sausages
1 teaspoon vegetable oil
1 large red onion, thinly sliced
100ml reduced-salt vegetable or chicken stock
200ml cold water
1 tablespoon fresh parsley, chopped
1 teaspoon dried mixed herbs
2 tablespoons cornflour blended with 1 tbsp of cold water
1 pinch ground black pepper
Method
Cook the carrots, swede or turnip and potatoes in a large saucepan of gently boiling water for about 20 minutes, until tender.

Information:

Swap the swede for sweet potato or butternut squash, to make a change.

Meanwhile, preheat the grill. Arrange the sausages on the grill rack and start to cook them when the vegetables have been cooking for 10 minutes. Grill them for 10 to 12 minutes, turning often.

Information:

Make the recipe with vegetarian sausages if you prefer.

At the same time, start to make the red onion gravy. Heat the vegetable oil in a large non-stick frying pan and add the onion, cooking until soft and lightly browned – about 3 to 4 minutes.

Pour in the stock and water, add the herbs, then simmer for 4 to 5 minutes. Add the blended cornflour and stir until thickened. Keep hot over a low heat.

Drain and mash the vegetables, seasoning with black pepper. Serve 2 sausages per person with the red onion gravy.

Information:

Try serving accompanied by some extra green vegetables, such as cabbage, kale or broccoli.