Spaghetti bolognese recipe
This easy version of a classic Italian recipe will help everyone get their 5 A Day.
Prep: 15 mins
Cook: 25 mins
Serves 4
Nutritional information

Per serving (1/4 recipe):

1,803kJ / 431kcal
30g protein
70g carbohydrate, of which 15g sugars
6.5g fat, of which 2g saturates
6g fibre
0.3g salt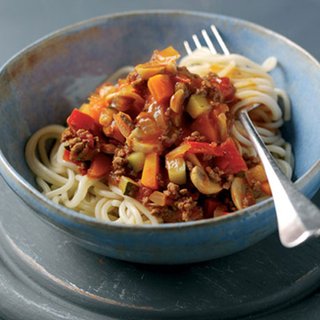 Ingredients
300g extra-lean minced beef
400g chopped tomatoes
300g dried spaghetti
1 large onion, finely chopped
2 garlic gloves, crushed or finely chopped
2 tablespoons tomato purée
2 teaspoons dried mixed herbs
1 red pepper, deseeded and chopped
3 handfuls mushrooms (cup or button), sliced
1 carrot, finely chopped
1 courgette, chopped
150ml reduced-salt vegetable or chicken stock
1 pinch ground black pepper
Method
Heat a large saucepan and add the minced beef, a handful at a time, cooking until browned. Add the onion and cook for another few minutes.

Add all the the remaining ingredients to the pan, apart from the spaghetti. Bring to the boil, then lower the heat and simmer gently for 15 to 20 minutes.

Information:

If you don't like one of the vegetables, just swap it for another – like cubed aubergine for courgette.

When the sauce has been cooking for 10 minutes, start to cook the spaghetti. Bring a large saucepan of water to the boil, add the pasta and bring back to the boil. Stir well and cook for 8 to 10 minutes, until tender.

Season the bolognese sauce with pepper. Drain the spaghetti and serve with the sauce.

Information:

You can make the bolognese sauce in advance and freeze in batches. Just remember to thaw it fully and make sure it's steaming hot before serving.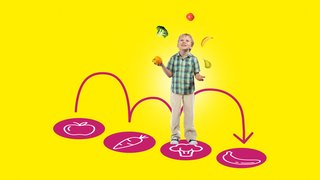 Want the recipe for a healthier family? Join today and over 8 weeks you'll get easy tips from nutrition experts and parents, healthy swaps and tasty recipes on a budget.