Meat-free cottage pie recipe
It's easy to make this delicious cottage pie with vegetarian mince instead of beef. The curry powder spices up the flavour, yet isn't too strong.
Prep: 20 mins
Cook: 35 mins
Serves 4
Nutritional information

Per serving (1/4 recipe):

1,443kJ / 345kcal
20g protein
52g carbohydrate, of which 13g sugars
6g fat, of which 0.5g saturates
11g fibre
1.4g salt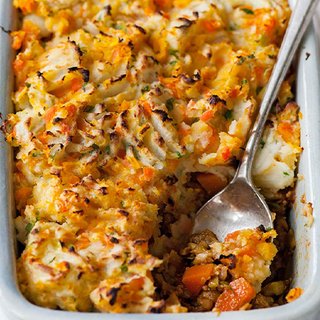 Ingredients
600g potatoes, cut into chunks
500g butternut squash, peeled and cut into chunks
1 teaspoon vegetable oil
1 medium onion, chopped
2 garlic cloves, crushed
2 carrots, chopped
300g vegetarian mince
400g chopped tomatoes
150ml reduced-salt vegetable or chicken stock
2 teaspoons curry powder
100g closed-cup mushrooms, sliced
1 courgette, grated
1 pinch ground black pepper
2 tablespoons cornflour
Method
Cook the potatoes and butternut squash in a large saucepan of boiling water until tender, for about 20 minutes.

Meanwhile, heat the vegetable oil in a large saucepan and gently fry the onion, garlic and carrots for 2 to 3 minutes, until softened. Add the vegetarian mince, tomatoes and stock. Stir in the curry powder, then add the mushrooms and courgette. Bring to the boil, then reduce the heat and cook, stirring occasionally, for 15 to 20 minutes. Season with black pepper.

Information:

If you're not keen on meat substitutes, use a 410g can of green lentils in water, drained.

Preheat the grill, warming a large baking dish underneath for a few moments. Meanwhile, drain and mash the potatoes and butternut squash, seasoning with black pepper.

Information:

You could make the mash with a combination of swede, carrot and potato.

Blend the cornflour with 1 tbsp cold water and add it to the mince mixture, stirring until thickened. Transfer it to the warm baking dish and spoon the vegetable mash on top. Grill for about 8 to 10 minutes, until browned. Serve.

Information:

Serve with lightly cooked broccoli or cabbage if you like, or frozen beans, peas or mixed vegetables.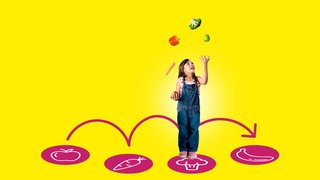 Want the recipe for a healthier family? Join today and over 8 weeks you'll get easy tips from nutrition experts and parents, healthy swaps and tasty recipes on a budget.