Turkey tikka kebabs recipe
Perfect for grilling or barbecuing, any time of year!
Prep: 10 mins
Marinate: 20 mins
Cook: 12 mins
Serves 4
Nutritional information

Per serving:

1,573kJ / 376kcal
37.5g protein
45g carbohydrate, of which 9g sugars
6g fat, of which 1g saturates
2g fibre
0.7g salt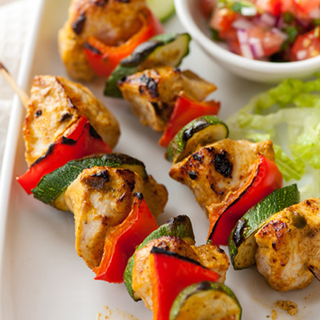 Ingredients
For the kebabs
500g skinless turkey breast, cut into chunks
150g low-fat natural yoghurt
2 teaspoons tikka masala curry paste
1 tablespoon fresh coriander (optional)
1 pepper (any colour), deseeded and cut into chunks
1 courgette, sliced
For the relish
2 tomatoes, finely chopped
1 small red onion, finely chopped
1 green chilli, deseeded and finely chopped
2 tablespoons chopped fresh coriander
To serve
180g wholegrain brown rice
2 handfuls lettuce leaves, chopped
quarter of a cucumber, chopped
Method
Put the turkey chunks into a bowl (not a metal one) and add the yoghurt, curry paste and coriander (if using). Mix together thoroughly, then cover and chill for at least 20 minutes, though you can leave overnight if you prefer.

Information:

Use chicken instead of turkey, for a change.

When ready to cook, soak 8 wooden kebab sticks in hot water for a few minutes (this will help prevent them from burning). Put rice on to cook in a large saucepan of gently boiling water. It will take about 30 minutes.

Information:

Wholegrain rice will provide you with more fibre and B vitamins – remember that it takes longer to cook than white rice.

Thread the turkey chunks, pepper and courgette onto the kebab sticks, alternating the pieces.

Preheat the grill, grill pan or barbecue. Cook the kebabs for 10 to 12 minutes, turning often, until cooked through.

Information:

Make sure the turkey is thoroughly cooked by inserting a sharp knife – there should not be any pink juices.

Meanwhile, mix together the tomatoes, red onion, chilli and coriander for the relish.

Information:

If you're not keen on coriander or chilli, simply leave them out.

Serve the relish with the kebabs, along with some lettuce and cucumber.