Jerk-style chicken skewers recipe
These spicy skewers are quick to prepare and cook. They're a great way to brighten up any barbecue – but can easily be made under the grill too!
Prep: 20 mins
Cook: 10 mins
Serves 4
Nutritional information

Per serving:

781kJ / 186kcal
21.4g protein
10.8g carbohydrate, of which 4.9g sugars
5.1g fat, of which 0.8g saturates
5.4g fibre
0.2g salt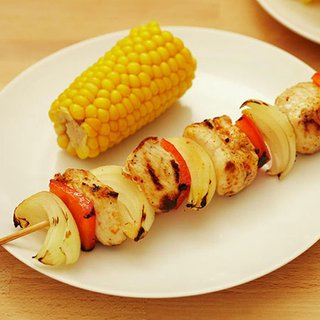 Ingredients
Chicken skewers
4 wooden skewers, soaked in water for 30 minutes
1 clove garlic, crushed
juice of half a lemon
1 tablespoon olive oil
1 or 2 teaspoons jerk seasoning, to taste
2 skinless, boneless chicken breasts, cut into 12 large chunks
1 red pepper, cut into 16 chunks
1 onion, quartered and separated to give 16 pieces
To serve
Method
Mix the garlic, lemon juice and olive oil with 1 teaspoon of jerk seasoning (or 2 if you prefer a spicier flavour). Stir in the chicken and set aside while you prepare the vegetables.

Thread a piece of pepper onto a skewer, then onion, then chicken, finishing with onion.

Information:

Try other vegetables like mushrooms and courgettes – or even fruit like mango or pineapple.

Cook on the barbecue for 8 to 10 minutes, turning frequently. Alternatively, cook under a preheated grill.

Meanwhile cook the sweetcorn cobettes in boiling water, or on the barbecue for 6 to 8 minutes.

Information:

Add flatbreads or boiled rice for an easy meal.