Coconut rice salad recipe
Add a taste of the tropics with this colourful rice salad – ideal for summer barbecues.
Prep: 15 mins
Cook: 30 mins
Serves 4 (as a side)
Nutritional information

Per serving (1/4 recipe):

537kJ / 127kcal
2.9g protein
23.3g carbohydrate, of which 3.8 sugars
1.8g fat, of which 0.7g saturates
3.3g fibre
trace amounts of salt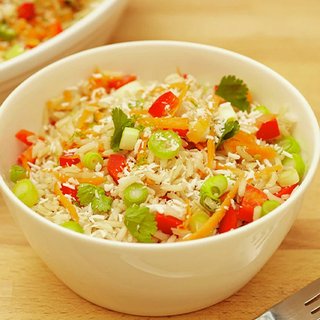 Ingredients
100g easy-cook brown rice
1 pepper, any colour, finely chopped
1 medium carrot, grated
1 bunch of spring onions, finely sliced
juice and grated zest of 1 lime
1 tablespoon chopped fresh coriander
1 tablespoon desiccated coconut
Method
Rinse the rice in a sieve under the cold water tap. Add to 250ml of cold water in a pan, bring to the boil, cover and cook for 25 minutes. Alternatively, cook according to pack instructions.

After cooking, return to the sieve and rinse under the cold water tap to cool.

When the rice is cool, stir in the vegetables, lime juice and zest, and coriander.

Information:

Use red onion instead of spring onions, if you prefer, and try adding other salad vegetables.

Place in a serving dish and sprinkle with coconut. Keep in the fridge until ready to serve.

Information:

It is important to cool the rice quickly and store it in the fridge.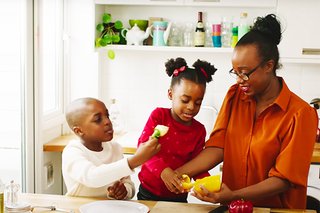 Get the family involved and make tasty meals from scratch!
Every week for 4 weeks you will get 2 healthy recipes – with videos, easy-to-follow instructions and a shopping list – straight to your inbox.