Lunch recipes
Whether it's hearty soups, "cheat" pizzas, delicious fresh wraps and rolls, or veggie sarnies with a sunny side, a healthier lunch doesn't need to be difficult.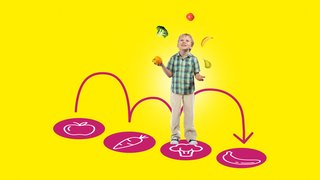 Join today and set simple, easy-to-achieve goals and track your progress to help your family cut down on sugar, enjoy cooking together and get their 5 A Day.
All lunch recipes
Most of these light lunch ideas need just a few steps and can be pulled together in 20 minutes or less! And for those that take a little longer, you can usually do some of the prep ahead of time.
Cook once, eat twice!
Why not roast up a tray of tasty veg on a Sunday to give you a quick, healthier sandwich filling for the next couple of days? Or whip up a big batch of soup, cool it and freeze in individual portions ready to defrost for a super-speedy meal.
Wholemeal wraps, pitta and even just a straightforward sandwich are often a great way to use up leftovers from dinner the night before.
Chilli goes brilliantly in a wrap or over a baked potato the next day, for example, while salad is a great sandwich filler – try adding some soft cheese, hummus or leftover meat. And any cooked veg makes the ideal filling for a tasty pitta pocket or wrap.
To get you started, here are 6 recipes perfect for prepping in advance.