Mediterranean medleys recipe
Prepare the roasted vegetables in advance and they'll be ready to make these delicious sandwiches.
Prep: 15 mins
Cook: 25 mins
Serves 4
Nutritional information

Per serving (1/4 recipe)

1,423kJ / 339kcal
20g protein
40.9g carbohydrate, of which 7.8g sugars
8.4g fat, of which 1.3g saturates
9.9g fibre
1.1g salt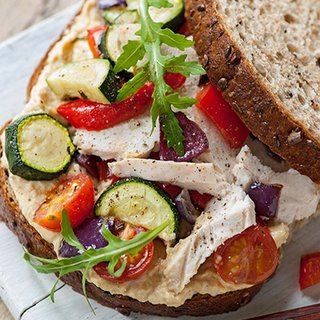 Ingredients
1 pepper, any colour, deseeded and chopped
1 courgette, sliced
1 small red onion, chopped
8 cherry tomatoes, halved
2 teaspoons olive oil
2 teaspoons fresh rosemary, chopped (dried is also fine)
8 slices wholemeal bread
3 tablespoons reduced-fat hummus
100g skinless and boneless roast chicken breasts, sliced
2 handfuls mixed salad leaves
1 pinch ground black pepper
Method
Preheat the oven to 200C (180C fan, gas mark 6).

Put the vegetables on to a baking sheet and sprinkle with the oil. Add the rosemary and season with black pepper. Roast for 20 to 25 minutes, until the vegetables are tender.

Information:

Roast the vegetables in advance, then cool them. Keep them in a covered dish in the fridge for up to 3 days, ready to use for the sandwiches.

To make the sandwiches, spread each slice of bread with hummus, then top 4 slices with the chicken. Share the cooled vegetables between them and add some salad leaves. Top with the remaining slices of bread, cut in half and serve.

Information:

For a vegetarian version, add a little reduced-fat grated cheese instead of chicken, or simply use some extra hummus.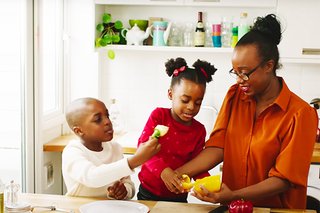 Get the family involved and make tasty meals from scratch!
Every week for 4 weeks you will get 2 healthy recipes – with videos, easy-to-follow instructions and a shopping list – straight to your inbox.