Salmon and cucumber wraps recipe
Ideal for a quick lunch or supper – and perfect for a packed meal. Serve with extra salad on the side to boost your vegetable intake.
Prep: 10 mins
Serves 4
Nutritional information

Per serving

1,229kJ / 292kcal
18.6g protein
34.6g carbohydrate of which 3g sugars
7.5g fat, of which 2.8g saturates
6g fibre
1.5g salt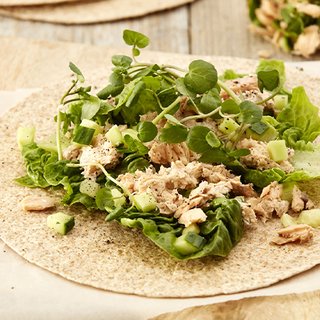 Ingredients
213g can of red or pink salmon, drained
100g lower-fat soft cheese
quarter of a cucumber, finely chopped
4 soft wholewheat flour tortillas
1 handful of lettuce leaves, shredded
1 small handful of watercress
half a lemon, juiced
1 pinch ground black pepper
Method
Tip the salmon into a bowl and mash with a fork. Add the soft cheese and cucumber and mix together, seasoning with a little black pepper.

Spread 1 teaspoon of tomato purée over one side of each pitta bread. Sprinkle with the dried mixed herbs.

Information:

The softened bones in canned salmon are edible. They are a useful source of calcium – essential for healthy bones and teeth.

Lay the tortillas on a work surface and spread the salmon mixture over them. Top with shredded lettuce and watercress, sprinkle with lemon juice (if using), then roll up. Slice in half and serve with extra salad, or wrap in cling film and keep chilled to eat later.

Information:

Wholewheat flour tortillas will provide extra fibre, though you could use plain or seeded wraps instead.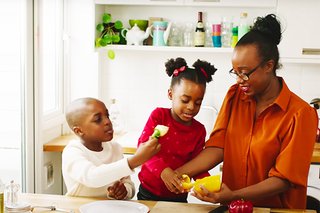 Get the family involved and make tasty meals from scratch!
Every week for 4 weeks you will get 2 healthy recipes – with videos, easy-to-follow instructions and a shopping list – straight to your inbox.