Couscous with chicken and peas recipe
Couscous is so easy to make and really versatile – it's the perfect base for a quick lunch.
Prep: 5 mins
Cook: 15 mins
Serves 1
Nutritional information

Nutritional information is not currently available for this recipe.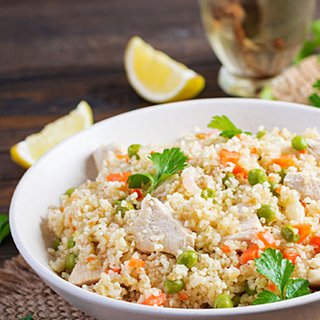 Ingredients
50g plain couscous
85g cooked chicken, chopped
40g frozen peas
4 cherry tomatoes, chopped
half a lemon, juiced
Method
Put the couscous in a large bowl and cover with boiling water. Leave for 10 to 15 minutes to swell and cool, then stir with a fork to fluff up the grains.

Information:

For a time-saving hack, simply defrost the peas by adding them to the couscous before covering with the boiling water.

Add the chicken and tomatoes, squeeze over the lemon juice, stir it all to combine, and you're done!

Information:

Microwavable pouches of couscous also work well – try mixing things up by using a spicy or tomato-flavoured version.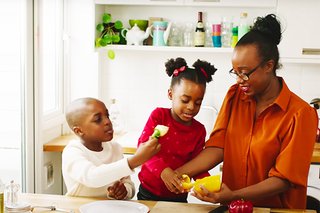 Get the family involved and make tasty meals from scratch!
Every week for 4 weeks you will get 2 healthy recipes – with videos, easy-to-follow instructions and a shopping list – straight to your inbox.