Spicy chicken and salad sandwich recipe
A creamy chicken sandwich – with a little kick!
Prep: 5 mins
Serves 1
Nutritional information

Nutritional information is not currently available for this recipe.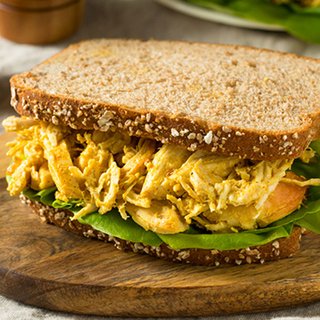 Ingredients
1 tablespoon low-fat plain yoghurt
¼ teaspoon of mild curry powder, to taste
85g cooked chicken, chopped
2 slices of wholemeal bread
1 small wedge of lettuce, shredded
1 small carrot, grated
1 small piece of cucumber, sliced
Method
Mix the yoghurt and curry powder to taste, then add the chicken.

Information:

For a non-spicy alternative, just swap reduced-fat mayonnaise for the curry powder and yoghurt.

Fill the sandwich with the chicken mixture, lettuce and carrot.

Cut into quarters and serve with the cucumber on the side.

Information:

This also works brilliantly in a wholemeal wrap or pitta!