Eggs paprika recipe
This simple dish is surprisingly tasty – and very economical too.
Prep: 5 mins
Cook: 20 mins
Serves 4
Nutritional information

Per serving:

874kJ / 209kcal
11g protein
24g carbohydrate, of which 8g sugars
8.5g fat, of which 2g saturates
4g fibre
0.6g salt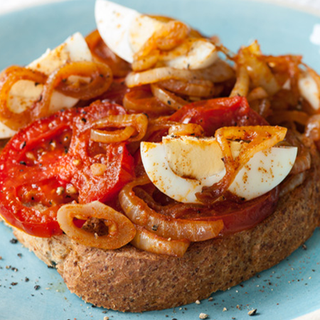 Ingredients
4 eggs
4 slices wholemeal bread
2 medium onions, sliced into thin rings
2 teaspoons vegetable oil
4 tomatoes, sliced
3 teaspoons mild paprika, plus extra for sprinkling
1 pinch ground black pepper
Method
Cook the eggs in gently boiling water for 10 to 12 minutes to hard-boil them.

While the eggs are cooking, heat the vegetable oil in a large non-stick frying pan. Add the onions and cook over a medium-low heat, stirring often, until very soft – about 10 minutes. Add a splash of boiling water if necessary to stop them from sticking.

Add the tomatoes and paprika to the onions, and cook for another 5 to 8 minutes. Season with a little black pepper.

Information:

Add the paprika according to taste. Choose smoked paprika if you like, and add a pinch of chilli powder or flakes if you like a little kick.

Shell the eggs and cut each into 4. Toast the bread, then top each slice with a quarter of the tomato mixture and 4 egg quarters. Sprinkle with extra paprika or black pepper, if you like.

Information:

Served over a portion of wholegrain rice, the tomato mixture and eggs make a lovely light vegetarian meal.