Breakfast recipes
Whether it's a quick bite before school or something more fancy at the weekend, a healthy breakfast is a great way to start any day.
Mornings can be busy when you have a family to feed, but our easy breakfast ideas are perfect for kids and adults alike.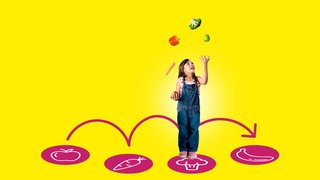 Join today and set simple, easy-to-achieve goals and track your progress to help your family cut down on sugar, enjoy cooking together and get their 5 A Day.
All breakfast recipes
From a delicious fruit filling that can be thrown together in the time it takes to toast a bagel, to creamy, warming porridge or jazzed-up beans on toast, these quick, healthier breakfast recipes will make breakfast more exciting and help kids resist the temptation to snack.
They're also a brilliant way to help your kids get 5 A Day!
Double up for lunch!
It's not just breakfast that can be sorted with these easy recipes.
Breakfast burritos are a delicious addition to a healthier lunchbox – just wrap them in foil once they have cooled. Or why not slip in a carrot and sultana mini pancake to top off a tasty lunch?
Here are 5 recipes that make a great meal, whether it's morning or midday!