Breakfast burritos recipe
Wholewheat soft tortillas are topped with tomato and pepper omelettes, then rolled up. Perfect for a tasty breakfast – or wrapped up for a packed lunch.
Prep: 10 mins
Cook: 10 mins
Serves 4
Nutritional information

Per serving:

958kJ / 229kcal
15g protein
17g carbohydrate of which 5g sugars
12g fat of which 4g saturates
1.5g fibre
0.6g salt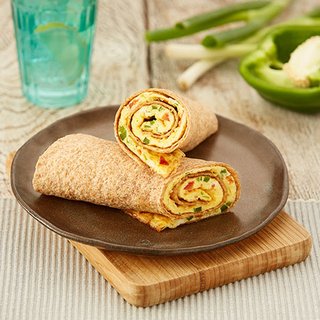 Ingredients
4 soft wholewheat flour tortillas
6 eggs
4 tablespoons 1%-fat milk
2 tomatoes, finely chopped
2 spring onions, finely chopped
1 pepper, any colour, deseeded and finely chopped
2 teaspoons vegetable oil
40g reduced-fat hard cheese, grated
1 pinch ground black pepper
Method
Lay out the tortillas on a work surface. Preheat the grill.

Information:

You could use plain tortillas, though the wholewheat ones have a higher fibre content.

Beat the eggs and milk together in a bowl. In another bowl, mix together the tomatoes, spring onions and pepper, seasoning with black pepper.

Heat half a teaspoon of vegetable oil in a non-stick frying pan and pour in a quarter of the beaten egg mixture. Cook on the hob over a medium heat for a few moments to set the base.

Layer 1 tortilla with the cooked egg, a quarter of the tomato mixture and 10g of cheese. Grill to further set the egg and melt the cheese.

Roll up the tortilla and slice in half, or wrap in foil to serve later. Repeat to make the other 3 tortillas.

Information:

To make the burritos more filling, try adding 100g drained mixed beans to the tomato mixture – you will be adding extra fibre too!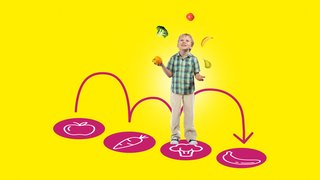 Want the recipe for a healthier family? Join today and over 8 weeks you'll get easy tips from nutrition experts and parents, healthy swaps and tasty recipes on a budget.