Creamy banana porridge with mish-mash raspberries recipe
Add fruity goodness to your breakfast with mashed banana and raspberries.
Prep: 10 mins
Cook: 10 mins
Serves 6
Nutritional information

Per serving:

904kJ / 214kcal
8.8g protein
3.1g fat, of which 0.6g saturates
35.6g carbohydrate, of which 12.4g sugars
4.3g dietary fibre
57mg sodium, equivalent to 0.1g salt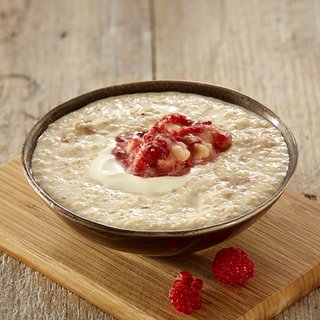 Ingredients
200g porridge oats
300ml skimmed milk
750ml water
2 large ripe bananas
200g raspberries (thawed if frozen)
4 tablespoons 0%-fat Greek yoghurt
Method
Put the porridge oats into a saucepan with the milk and water. Heat, stirring constantly, until the porridge thickens. Reduce the heat and simmer for 3 to 4 minutes, stirring often.

Meanwhile, mash the bananas in a bowl using a fork. Stir half into the porridge. Add the raspberries (or thawed frozen summer berries) to the rest of the banana and squash them a little with the fork.

Share the porridge between 6 warm bowls and top each portion with the yoghurt and the raspberry mixture.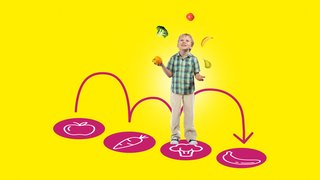 Want the recipe for a healthier family? Join today and over 8 weeks you'll get easy tips from nutrition experts and parents, healthy swaps and tasty recipes on a budget.