Blueberry and banana muffins recipe
These healthy, fruit-packed snack-sized muffins cut right down on the fat and sugar you get in shop-bought versions.
Prep: 10 mins
Cook: 25 mins
Makes 8 muffins
Nutritional information

Per muffin:

950kJ /227kcal
5.5g protein
9g fat, of which 2.5g saturates
31g carbohydrate, of which 14.5g sugars
1.5g fibre
0.4g salt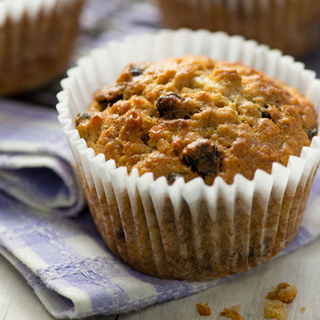 Ingredients
125g lower-fat spread, melted and cooled slightly
2 tablespoons semi-skimmed milk
1 teaspoon vanilla extract
2 eggs, beaten
1 ripe banana, mashed
50g unsweetened apple purée
100g self-raising flour
1 teaspoon ground mixed spice
50g soft brown or light muscovado sugar
75g dried blueberries
75g porridge oats
Method
Preheat the oven to 180C (fan 160C, gas mark 4). Line a muffin tin with 8 paper muffin cases or squares of baking paper.

Mix together the cooled low-fat spread, milk, vanilla extract, mashed banana, apple purée and eggs in a bowl.

Information:

To make your own apple purée, simmer a chopped cooking apple in a little water for 5 to 6 minutes until tender. Then simply drain, mash and leave to cool.

In a separate large mixing bowl, combine the flour, mixed spice, sugar, blueberries and porridge oats.

Slowly tip the wet ingredients into the bowl of dry ones, gently mixing as you go, until combined.

Information:

The secret of successful muffins is to avoid over-mixing the wet and dry ingredients.

Divide the mixture evenly between the muffin cases, then bake for 25 to 30 minutes, until firm and golden. Remove from the oven and leave to cool on a wire rack.

Information:

Next time, try dried cranberries instead of blueberries.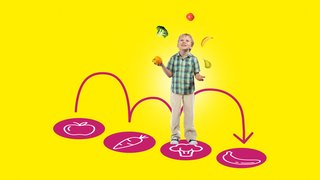 Want the recipe for a healthier family? Join today and over 8 weeks you'll get easy tips from nutrition experts and parents, healthy swaps and tasty recipes on a budget.