Super scrambled eggs recipe
For a healthy cooked breakfast, enjoy this tasty combination of scrambled eggs with tomatoes and mushrooms.
Prep: 5 mins
Cook: 10 mins
Serves 4
Nutritional information

Per serving:

1,067kJ / 255kcal
17g protein
13g fat, of which 3.5g saturates
19g carbohydrate, of which 4g sugars
3g fibre
1g salt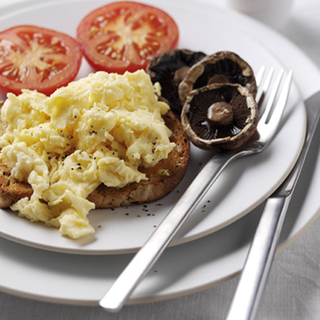 Ingredients
4 tomatoes, halved
2 handfuls mushrooms (cup or button)
4 slices wholemeal bread
8 eggs
4 tablespoons 1%-fat milk
2 teaspoons lower-fat spread
1 pinch ground black pepper
Method
Preheat the grill. Arrange the tomatoes and mushrooms on the rack and grill them for 8 to 10 minutes. While they're cooking, toast the bread.

Information:

You can swap the tomatoes for some slices of grilled red or yellow pepper instead if you prefer.

Beat the eggs and milk together in a bowl. Melt the low-fat spread in a non-stick saucepan and add the egg mixture.

Information:

If you like a bit of a kick, add a pinch of chilli powder or dried chilli flakes to the egg mixture.

Cook over a medium-heat, stirring all the time with a wooden spoon, until the eggs are set – about a minute or so.

Information:

To stop the eggs from overcooking and getting too dry, it's a good idea to take them off the heat when they are still quite runny. They will continue to cook just from the heat of the pan for another minute or two.

Serve the scrambled eggs on the slices of toast, along with the grilled tomatoes and mushrooms. Season to taste with some pepper and tuck in.