Scrambled eggs on mega-mushrooms with grilled peppers recipe
Look out for large portobello mushrooms to make this tasty breakfast treat.
Prep: 10 mins
Cook: 10 mins
Serves 4
Nutritional information

Per serving:

1,551kJ / 369kcal
21.3g protein
9.8g fat, of which 2.5g saturates
44.3g carbohydrate, of which 6.9g sugars
9.3g fibre
1.1g salt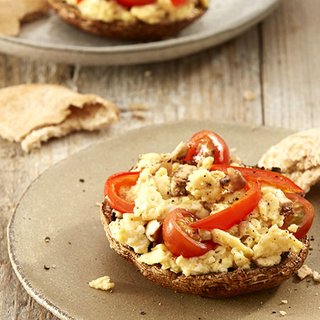 Ingredients
2 red peppers, deseeded and sliced
4 very large mushrooms, stalks removed
6 eggs
4 tablespoons skimmed milk
2 teaspoons lower-fat spread
12 cherry tomatoes, halved
4 wholemeal pittas
freshly ground black pepper
Method
Preheat the grill. Arrange the sliced peppers and mushroom caps on the grill rack, and cook for 4 to 5 minutes, turning once.

While veg is grilling, beat the eggs and milk together. Chop the mushroom stalks.

Melt the lower-fat spread in a non-stick saucepan and add the eggs and mushroom stalks, stirring with a wooden spoon to set and scramble the eggs. Add the grilled peppers and cherry tomatoes, and cook for a few more seconds.

Meanwhile, warm the pitta bread in a toaster or under the grill. Warm 4 serving plates and place a mushroom on each one. Share the scrambled egg mixture between them and season with black pepper. Serve with the warm pittas.