Healthier full English breakfast recipe
Everyone loves a traditional cooked breakfast. This one is trimmed down to make it healthier – yet every bit as tasty!
Prep: 10 mins
Cook: 10 mins
Serves 4
Nutritional information

Per serving:

1,096kJ / 262kcal
20g protein
19g carbohydrate, of which 8g sugars
13g fat, of which 3g saturates
6g fibre
1.7g salt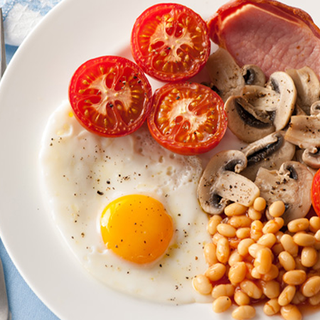 Ingredients
4 lean back bacon rashers, fat trimmed
8 tomatoes, halved
250g closed-cup mushrooms, washed and thickly sliced
50ml cold water
420g reduced-salt and sugar baked beans in tomato sauce
1 tsp vegetable oil
4 eggs
1 pinch ground black pepper
Method
Preheat the grill. Arrange the bacon and halved tomatoes on the rack and cook for 5 to 6 minutes, turning the bacon once.

Meanwhile, put the mushrooms into a large frying pan with the water. Heat and simmer for 5 minutes, stirring occasionally.

Information:

Cooking mushrooms in a little water is a much healthier cooking method than frying them.

At the same time, heat the baked beans in a separate saucepan.

Information:

Make it a habit to choose canned beans with a reduced sugar and salt content.

Heat the vegetable oil in a non-stick frying pan and crack in the eggs. Cook over a medium heat for about 2 minutes until set, then transfer to the grill to set the surface. At this point, remove the grill pan, and share the bacon and tomatoes between 4 warm serving plates.

Share out the baked beans and mushrooms, then place 1 egg on each plate. Season with black pepper and serve.