Sweet potato chips with simple salsa recipe
Perfect served with a side salad or as a snack to share. For a twist, try roasting pumpkin or butternut squash instead.
Prep: 15 mins
Cook: 35 mins
Serves 4
Nutritional information

Per serving:

1,079kJ / 258kcal
5g protein
58g carbohydrate, of which 19g sugars
2.5g fat, of which 0.5g saturates
7g fibre
0.4g salt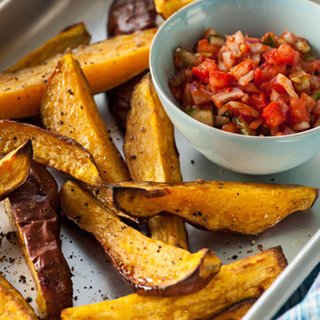 Ingredients
4 medium-sized sweet potatoes (about 1kg total), scrubbed
2 teaspoons vegetable oil
2 tomatoes, finely chopped
1 small red onion, or 4 spring onions, finely chopped
a quarter of a cucumber, finely chopped
4 tablespoons tomato purée
1 pinch ground black pepper
Swap tip
You could also use regular potatoes – but they may need a bit longer in the oven – or try pumpkin or butternut squash instead of the sweet potato.
Method
Preheat the oven to 200C (180C fan oven, gas mark 6).

Slice each sweet potato lengthways into 6 wedges and put them in a roasting tin. Add the vegetable oil, season with black pepper and toss to coat. Roast in the oven for 35 to 40 minutes, or until tender, turning them over after 20 minutes.

Information:

Spice up the sweet potatoes by sprinkling them with 1 teaspoon of cumin seeds, paprika, or any other spice you fancy!

While the veg is roasting, make the salsa by mixing the tomatoes, onion, cucumber and tomato purée.

Information:

Buy a cucumber portion and use half of it in this recipe and the rest in sandwiches or salads.

Serve the sweet potato wedges with the salsa on the side.

Information:

Add a side salad to easily make this into a tasty light lunch.