Falafel recipe
A healthy, easy-to-make baked version of this popular Middle Eastern dish. Served in wholemeal pitta with delicious crunchy veggies, they're packed full of flavour.
Prep: 15 mins
Cook: 25 mins
Serves 4
Nutritional information

Per serving:

1564kJ / 371kcal
16.9g protein
56.5g carbohydrate, of which 7.6g sugars
6.3g fat, of which 0.9g saturates
10.3g fibre
0.9g salt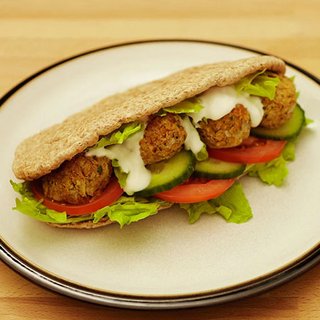 Ingredients
Falafel
400g tinned chickpeas in water, rinsed and drained
1 small onion, peeled
1 clove garlic, peeled
wholemeal breadcrumbs (from 1 slice of bread)
1 teaspoons ground cumin
1 teaspoons ground coriander
2 tablespoons chopped fresh parsley
1 tablespoon olive oil
To serve
4 large wholemeal pitta breads
a few lettuce leaves
2 medium tomatoes, sliced
a quarter of a cucumber, sliced
4 tablespoons zero-fat Greek-style yoghurt
Method
Put the onion and garlic in a food processor and chop finely.

Information:

If you don't have a food processor, you can still make this recipe. Use a hand blender, or mash the chickpeas with a fork or potato masher.

Add the chickpeas, breadcrumbs, cumin, coriander, parsley and olive oil, and mix for a bit longer.

Information:

Make leftover bread into breadcrumbs and store in the freezer.

Shape into 16 balls and place on a greased or lined baking tray. Chill for 30 minutes.

Place tray into a preheated 200C oven (180C fan, gas mark 6) and bake for about 25 minutes, turning the falafel to prevent sticking.

To assemble, fill each pitta with lettuce, sliced tomatoes and cucumber, falafel and some yoghurt.

Information:

Warming the pittas in a toaster or under the grill makes them easier to split and fill. The falafel can also be served warm with couscous and vegetables.