Beefed up sarnies recipe
Add colourful grated salad to a roast beef sandwich to provide extra fibre and vitamins to your diet.
Prep: 15 mins
Serves 4
Nutritional information

Per serving (1/4 recipe):

1,100kJ / 263kcal
18g protein
35g carbohydrate of which 6g sugars
6.5g fat of which 1g saturates
4g fibre
1.1g salt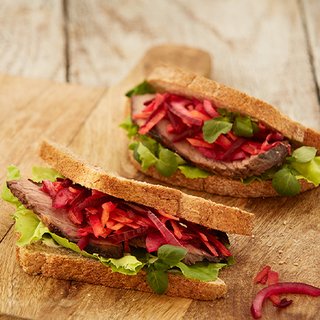 Ingredients
1 carrot, grated
1 cooked beetroot (vacuum packed), grated
half a small red onion, thinly sliced
2 teaspoons vinegar
8 slices wholemeal bread
8 teaspoons reduced-fat mayonnaise
1 handful mixed salad leaves
4 slices lean roast beef (fat trimmed off)
1 pinch ground black pepper
Method
In a bowl, mix together the carrot, beetroot and red onion with the vinegar. Season with black pepper.

Information:

Use a couple of finely sliced spring onions instead of red onion, if you prefer.

Spread each slice of bread with 1 teaspoon of mayonnaise, then top 4 of them with the lettuce leaves and the roast beef. Share the salad between them, then sandwich together with the remaining slices of bread.

Cut in half and serve at once, or wrap and keep cool to serve later.

Information:

You could also use lean roast pork or ham instead of beef.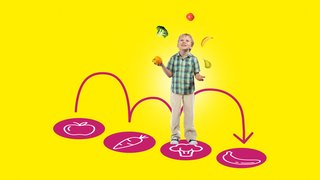 Want the recipe for a healthier family? Join today and over 8 weeks you'll get easy tips from nutrition experts and parents, healthy swaps and tasty recipes on a budget.