Quick chicken couscous recipe
Couscous is so quick and simple to prepare, and it goes well with lots of different flavours too.
Prep: 5 mins
Cook: 15 mins
Serves 4
Nutritional information

Per serving:

1,362kJ / 322kcals
26.8g protein
4.2g fat, of which 0.9g saturates
42.8g carbohydrate, of which 4.5g sugars
3.3g fibre
0.5g salt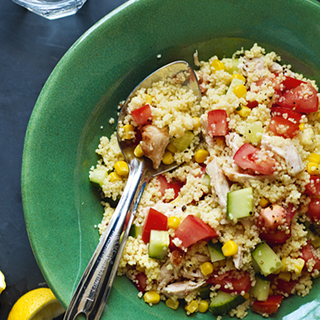 Ingredients
200g couscous
450ml reduced-salt chicken or vegetable stock
250g skinless, boneless roast chicken breasts, chopped
100g sweetcorn
2 tomatoes, chopped
quarter of a cucumber, chopped
1 tablespoon lemon juice
1 pinch ground black pepper
Method
Put the couscous into a large mixing bowl and cover with the hot stock. Leave for 10 to 15 minutes to swell and cool, then stir with to fluff up the grains.

Add the chicken, sweetcorn, tomatoes, cucumber, lemon juice and black pepper. Stir well to mix and then divide between 4 bowls.

Information:

You can make a fruity version of this meal by replacing the sweetcorn, tomatoes and cucumber with chopped apple, seedless grapes, and raisins or chopped ready-to-eat dried apricots.