Jollof rice recipe
One of the most popular dishes in western Africa, jollof rice is a 1-pot dish to relish. Each region has its own variation, but the results are always the same – tasty!
Prep: 15 mins
Cook: 30 mins
Serves 4
Nutritional information

Per serving (1/4 recipe):

1,088kJ / 260kcal
6g protein
0.8g fat, of which 0.02g saturates
56g carbohydrate, of which 5g sugars
2g fibre
0.3g salt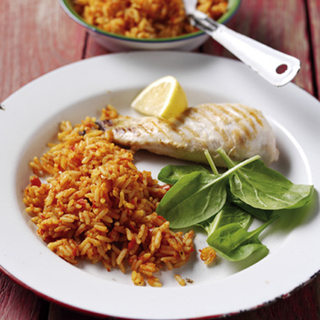 Ingredients
400g plum tomatoes (fresh or tinned)
1 medium onion, roughly chopped
1 red pepper, deseeded and chopped
100g tomato purée
1 bay leaf
2 garlic cloves, crushed
0.5 teaspoon curry powder
0.5 teaspoon dried thyme
700ml reduced-salt vegetable or chicken stock
500g easy-cook long grain white rice
1 pinch ground black pepper
Method
Liquidise the tomatoes, onion and pepper in a blender or food processor (or chop very finely). Tip into a large saucepan, then cover and cook over medium-high heat for 6 to 8 minutes.

Add the tomato purée, bay leaf, garlic, curry powder and thyme. Simmer for a further couple of minutes, stirring occasionally, then add the stock or water and bring to boil.

Once boiling, add the rice and stir well, then turn down the heat and cover with a lid. Allow to simmer over a low heat for 15 to 20 minutes, or until the rice is tender.

Check and stir occasionally to make sure there is enough liquid to cook the rice, adding a little extra water if needed to make sure it does not burn.

Information:

You could use easy-cook brown rice in this recipe, but it will take an extra 10 to 15 minutes to cook, so keep an close eye on the liquid levels.

Once the rice is cooked, turn off the heat and leave to cool for a minute or two. Ladle between 4 plates and enjoy.

Information:

Serve with grilled chicken, fish or meat and some brightly coloured steamed vegetables or a side salad. To save time, you can add frozen vegetables to the pan to steam towards the end of cooking.