Asaro potato porridge recipe
Also known as mpoto mpoto, this West African favourite is usually made with yams. This variant uses a combo of sweet and white potatoes in a rich, spicy sauce to make a quick, easy and low-cost dinner.
Prep: 20 mins
Cook: 30 mins
Serves 4
Nutritional information

Per serving (1/4 recipe)

329kcal / 1,378kJ
14g protein
10g fat, of which 3.5g saturates
44g carbohydrate, of which 9.3g sugars
5.7g fibre
0.31g salt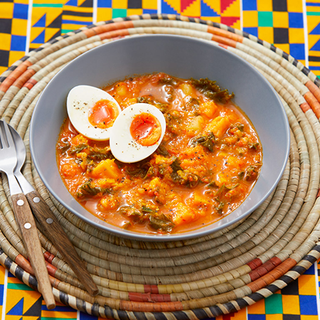 Ingredients
1 scotch bonnet pepper
1 medium chopped onion
2 red bell peppers, deseeded and chopped
300ml water
425g sweet potato, peeled and cut into cubes
425g white potato, peeled and cut into cubes
2 teaspoons red palm oil
1 tablespoon ground crayfish (optional)
1 small (5g) lower-salt stock cube
80g kale, washed
4 hard-boiled eggs, peeled
Method
Add the scotch bonnet, onion and red pepper to a food blender with 300ml water, and blend to a smooth paste.

Information:

For a richer, saucier consistency, add tinned tomatoes to the blended pepper mix.

Pour the blended ingredients into a large pot, then add the white potato, sweet potato, palm oil, stock cube and crayfish (if using). Top up with more water until the potatoes are covered by about 3cm.

Information:

Yams and sweet potato can be used in place of white potatoes.

Cover the pot and boil on a medium-low heat for about 20 minutes, or until the potatoes are soft enough to mash. The mixture should be quite loose and saucy.

Lower the heat and use a wooden spoon to gently crush the potatoes and combine with the sauce.

Information:

The potatoes do not have to be totally smooth – the chunks add extra texture!

Stir in the kale and allow the mixture to simmer for 3 to 5 minutes.

Information:

Spinach makes a good substitute for kale. Frozen leaves work well too.

Gently create 4 wells in the mixture and add the hard-boiled eggs. Serve hot and enjoy!