Oat fufu with kale riro recipe
Try this quick and easy African "swallow" served with our healthy kale riro – an oil-free spin on the delicious west African vegetable soup.
Prep: 15 mins
Cook: 45 mins
Serves 4
Nutritional information

Per serving (1/4 recipe):

1,953kJ / 465kcal
28.6g protein
58.1g carbohydrate, of which 9.8g sugars
10.8g fat, of which 0.8g saturates
12g fibre
0.2g salt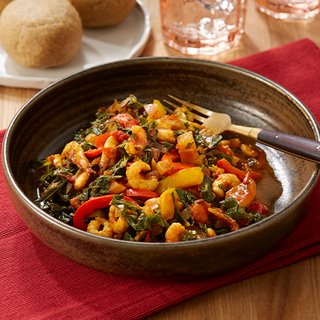 Ingredients
Riro
400g tinned chopped tomatoes
1 teaspoon hot pepper powder
170g red onion, diced
1 teaspoon curry powder
1 low-salt seasoning cube (5g)
70g garden egg (white aubergine), chopped
100g yellow bell pepper, deseeded and chopped
100g red bell pepper, deseeded and chopped
25g locust beans (also called iru, dawa-dawa or ogiri)
200g peeled prawns
150g kale, washed and chopped
20g dried crayfish 
Fufu
250g porridge oats
300ml cold water
200ml boiling water
Method
Add the chopped tomatoes, hot pepper, onion, curry powder and crumbled seasoning cube to a medium-sized pot. Cook on medium heat, stirring continuously for 5 minutes.

Stir in the garden egg, yellow and red peppers, and locust beans. Cover and cook for a further 8 to 10 minutes on medium heat.

Add the prawns and kale, and sprinkle in the dried crayfish. Stir well to combine all the ingredients, then cover and allow to steam on low heat for 7 minutes.

Information:

For a vegetarian version, swap out the crayfish and prawns for vegetables like mushrooms and okro. If you want a more traditional taste, add bitter leaf.

To make the fufu, add the porridge oats and cold water to a food blender. Allow to soak for a minute or so and then blend until smooth. If you like a more coarse texture, blend for less time.

Pour the mixture into a non-stick pot and cook on medium heat, stirring continuously until it starts to thicken. Once the oats become more solid and dough-like, stir more forcefully, pounding the mixture for 3 to 4 minutes, until it becomes thick and stretchy. The mixture can burn easily, so don't take your eye off it!

Lower the heat and use the wooden spoon to create 4 or 5 wells in the mixture. Add 150 to 200ml of boiling water, then cover the pot and allow to "cook" on low heat for 5 minutes.

Carry on mixing for another 3 to 4 minutes using a pounding motion until you have a soft, sticky "dough". Remove from the heat, divide into portions and serve with the kale riro.