Corn frizzlers recipe
These easy fritters take minutes to make and go great with pretty much any dip you fancy! Perfect for a lunchbox or served with a salad for dinner.
Prep: 10 mins
Cook: 10 mins
Serves 4
Nutritional information

Nutritional information is not currently available for this recipe.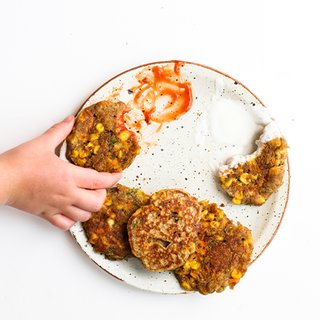 Ingredients
Fritters
180g plain or wholemeal flour
1.5 teaspoons baking powder
0.5 teaspoon bicarbonate of soda
4 eggs
250ml semi-skimmed milk
2 spring onions, sliced
350g sweetcorn (fresh, tinned and drained, or frozen and defrosted all work great)
1 large sweet potato, grated
1 teaspoon curry powder
1 tablespoon oil
0.5 red chilli, de-seeded and sliced (optional)
1 handful of fresh coriander, roughly chopped (optional)
Yoghurt dip
250g low-fat plain Greek-style yoghurt
handful of fresh mint, finely chopped (or 1 teaspoon dried mint)
black pepper, to taste
Method
Mix the flour and baking powder in a bowl. Add the eggs and milk, and whisk until the mixture becomes a smooth batter. Then stir in the corn, sweet potato, spring onions, curry powder, and chilli and coriander if using.

Information:

This recipe works well with loads of different types of veg, so mix it up! Try swapping the sweet potato for grated carrot, courgette, squash or beetroot, and switch out the corn for peas, chopped pepper or drained tinned chickpeas.

Heat the oil in a pan over a medium heat. Add a few tablespoons of batter to the pan, making sure each dollop has enough space around it and does not overlap with the others. Fry the fritters for 2 to 3 minutes on each side, or until golden and cooked through.

Once the fritters are ready, remove from the pan onto a plate lined with kitchen paper. Work in batches until all the batter is cooked.

Make the dip by mixing the yoghurt, mint and pepper together in a bowl. Serve alongside the fritters and get dipping! Add a side salad and a crusty wholemeal roll to make a light meal.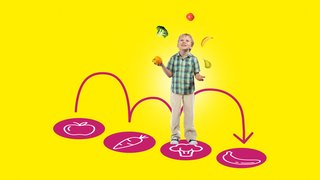 Want the recipe for a healthier family? Join today and over 8 weeks you'll get easy tips from nutrition experts and parents, healthy swaps and tasty recipes on a budget.