Mean and green mac and cheese recipe
This healthier take on a family favourite is creamy, colourful and packed full of veg.
Prep: 10 mins
Cook: 50 mins
Serves 6
Nutritional information

Nutritional information is not currently available for this recipe.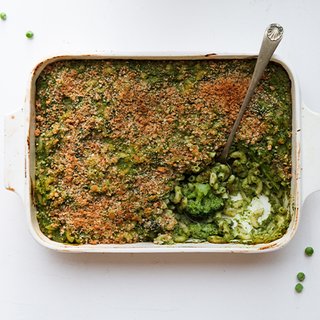 Ingredients
400g macaroni pasta
2 heads of broccoli (about 800g), chopped into florets
1 tablespoon lower-fat spread
1 tablespoon plain flour
500ml semi-skimmed milk
1 teaspoon mustard
100g spinach, chopped (fresh, or defrosted and excess water squeezed out)
150g peas (fresh or frozen)
100g lower-fat cheese, grated
0.5 teaspoon fresh grated nutmeg or ground cumin
1 teaspoon black pepper
100g breadcrumbs (optional)
Method
Cook the pasta in a pan of boiling water, according to the packet instructions – about 10 minutes. About 5 minutes before the pasta is cooked, add half the broccoli florets to the pan. Once ready, drain the pasta and broccoli and tip them into a casserole dish or roasting tin.

Information:

Cauliflower makes the perfect swap for broccoli in this recipe.

To make the sauce, melt the spread in a saucepan over a medium heat. Add the flour and whisk quickly until it creates a paste, then add a small amount of the milk and whisk. Once the mixture is smooth, add a little more milk and keep whisking until smooth. Repeat until all the milk is in.

Turn up the heat and bring the mixture to the boil. Mix in the mustard, spinach, peas and remaining 8 florets of broccoli, then lower the heat and let simmer for 5 to 10 minutes. While it's simmering, pre-heat the oven to 200C (180C fan, gas mark 6).

Information:

Sweet potato, squash, pumpkin or mushrooms are great in place of the green veg in the sauce. Just make sure you cut them up small so they soften enough to mash!

Pour the sauce over the macaroni and broccoli, mix well until everything is covered, and spread evenly across the dish. Sprinkle over the breadcrumbs if using, and then bake in the pre-heated oven for 20 to 25 minutes, or until golden and bubbling. When it's ready, remove from the oven and leave to cool for 5 minutes – then plate up and tuck in!