Four seasons pizza recipe
Everyone loves making pizza – it's completely customisable and usually a lot healthier than shop-bought ones.
Prep: 15 mins
Cook: 15 mins
Serves 4
Nutritional information

Per serving (1/4 recipe):

768kJ / 182kcal
10.2g protein
23g carbohydrate, of which 3.6g sugars
5.1g fat, of which 2.1g saturates
2.1g fibre
0.7g salt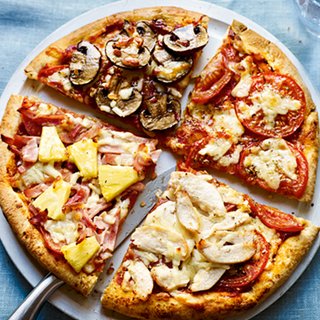 Ingredients
one 23cm pizza base
1g tomato purée
2 tomatoes, sliced
50g ready-grated mozzarella
1 teaspoon dried Italian mixed herbs
25g sliced wafer-thin ham, chopped
25g pineapple pieces in natural juice, drained
2 mushrooms (cup or button), thickly sliced
25g cooked chicken (or turkey), chopped
Method
Preheat the oven to 200C (fan 180C, gas mark 6). Place the pizza base on a large baking sheet. Spoon the tomato purée on top and spread it evenly over the surface.

Arrange the tomatoes on top. Scatter with half the mozzarella, then sprinkle with the herbs. Arrange the ham over a quarter of the pizza, along with the pineapple pieces.

Arrange the mushrooms over a second quarter of the pizza. Put the cooked chicken or turkey over a third quarter of the pizza. Leave the last quarter as it is.

Sprinkle the rest of the mozzarella over the whole pizza, then bake for 12 to 15 minutes until the cheese is bubbling. Let cool for a few moments before slicing and serving.

Information:

Ready-grated mozzarella is better for pizza toppings, as the whole cheese is tricky to grate.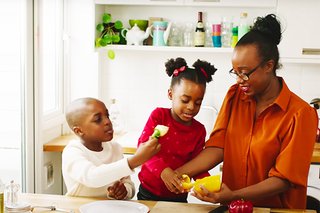 Get the family involved and make tasty meals from scratch!
Every week for 4 weeks you will get 2 healthy recipes – with videos, easy-to-follow instructions and a shopping list – straight to your inbox.