Cheesy ham and leek bake recipe
Low-cost and hearty, this quick and easy ham, leek and cheese bake is the perfect mid-week meal.
Prep: 15 mins
Cook: 35 mins
Serves 4
Nutritional information

Per serving:

987kJ / 236kcals
18.6g protein
11.1g fat, of which 4.8g saturates
13.8g carbohydrate, of which 6.3g sugars
3.3g fibre
1.5g salt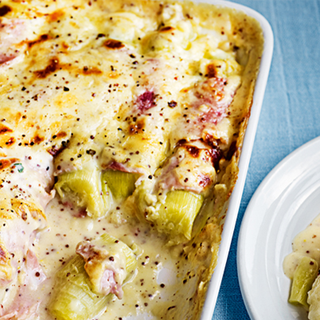 Ingredients
6 leek, washed and trimmed
180g wafer-thin ham slices
35g plain flour
20g lower-fat spread
300ml semi-skimmed milk
75g reduced-fat mature cheddar, grated
1 teaspoon wholegrain mustard
1 pinch ground black pepper
Method
Cook the leeks in a large saucepan of simmering water for 10 to 12 minutes, until just tender, then drain well in a colander. It helps if you leave them for a few minutes to cool slightly too.

Wrap a slice of ham around each leek, then arrange them in a large shallow baking dish. Turn on the oven to preheat to 200C (fan 180, gas mark 6).

Put the flour, low-fat spread and milk into a non-stick saucepan. Heat, stirring all the time with a small whisk until the sauce is thick and smooth. Cook gently for a few seconds more, then remove from the heat.

Information:

It's a good idea to invest in a small silicone-coated whisk to help make easy all-in-one sauces. They won't scratch non-stick pans and they help to give a smooth, lump-free sauce.

Add all but 1 tablespoon of the cheese to the pan, then stir in the mustard, season with some pepper and keep stirring until the cheese has all melted. Pour the whole mixture over the leeks, then sprinkle the remaining cheese over the top.

Information:

Try adding some sliced tomatoes on top of the leeks before sprinkling the cheese. Not only are baked tomatoes delicious, but it also adds to your 5 A Day!

Bake in the oven for 15 to 20 minutes, until the leeks are heated through and the top is golden brown. Leave to cool for a few minutes, then plate up. Serve 2 leeks for adults and 1 for children. Enjoy!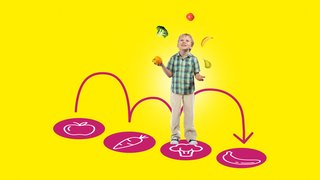 Want the recipe for a healthier family? Join today and over 8 weeks you'll get easy tips from nutrition experts and parents, healthy swaps and tasty recipes on a budget.