Maraq fahfah recipe
This healthy twist on a delicious traditional 1-pot Somali meat-based broth – complete with vegetables, potatoes, and authentic herbs and spices – is really simple and incredibly satisfying.
Prep: 15 mins
Cook: 70 mins
Serves 4
Nutritional information

Per serving (1/4 recipe)

149kcal / 627kJ
16g protein
5.2g fat, of which 0.1g saturates
7.2g carbohydrate, of which 4.4g sugars
3g fibre
Trace amounts of salt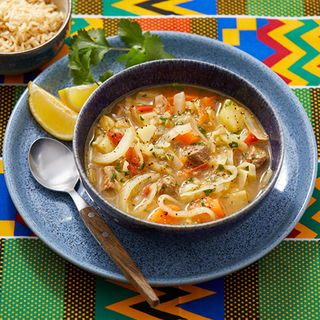 Ingredients
300g lean stewing lamb (cut into medium pieces)
2 medium white onions, roughly chopped
6 to 8 garlic cloves, finely chopped
10g lamb stock cube
1.5L water
350g white potato, scrubbed and cut into small cubes
120g carrots, peeled and diced
170g parsnip, peeled and diced
600g white cabbage, roughly chopped
240g fresh tomatoes, chopped
1 small green chilli, diced
2 teaspoons ground coriander
10g fresh coriander, chopped
1 tablespoon lemon juice
1 teaspoon black pepper
To serve (optional)
130g brown basmati rice, washed and steamed
Method
Add the lamb, onions, garlic and stock cube to a large pot. Cover with the water, and cook on medium-low heat for 40 minutes or until the meat is tender.

Information:

You can also use lean goat meat or beef instead of the lamb – just increase the cooking time by 30 minutes.

Add the potato, carrot, parsnip, cabbage and tomatoes, and cook over a medium heat for 15 minutes or so, until the potatoes and other vegetables are tender.

Information:

This recipe works well with most types of veg, so use whatever you fancy or have left over. Red peppers or baby corn are good options.

Lower the heat, then add the chilli and dried coriander. Stir well to mix, and simmer for a further 5 minutes.

Finally, stir in the fresh coriander, lemon juice and black pepper, and simmer for another couple of minutes. Ladle into bowls for a nourishing light lunch.

Information:

Serve over a small portion of steamed brown rice for a more substantial meal.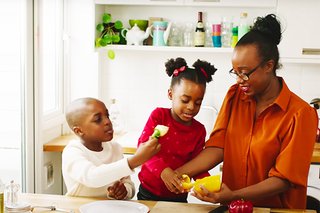 Get the family involved and make tasty meals from scratch!
Every week for 4 weeks you will get 2 healthy recipes – with videos, easy-to-follow instructions and a shopping list – straight to your inbox.