Cheesy veggie wedges recipe
This recipe is so tasty! Perfect served cold in packed lunches or as a snack, it's equally good as a light dinner, served warm with a side of vegetables or salad.
Prep: 10 mins
Cook: 25 mins
Serves 4
Nutritional information

Per serving (1/4 recipe):

915kJ / 218kcal
13.5g protein
20.4g carbohydrate, of which 2.7g sugars
8.5g fat, of which 3.2g saturates
3g fibre
0.5g salt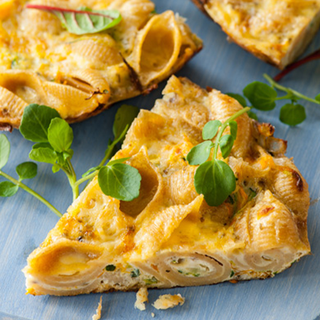 Ingredients
100g pasta shapes (or 300g cooked potato, in chunks)
1 teaspoon vegetable oil
1 small onion, chopped
1 courgette, grated
1 carrot, grated
4 eggs
50g reduced-fat hard cheese, grated
2 teaspoons dried mixed herbs
1 pinch ground black pepper
Method
Cook the pasta shapes in boiling water for 10 to 12 minutes, until just tender. Once ready, drain thoroughly and rinse with cold water to cool them quickly.

Information:

You could use cooked potatoes instead of pasta. You will need about 300g altogether, chopped into chunks.

While the pasta is cooking, heat the vegetable oil in a non-stick frying pan and gently cook the onion for 3 to 4 minutes, stirring often. Remove from the heat and add the courgette, carrot and pasta (when ready). Mix well.

In a bowl, beat the eggs together and add the cheese. Stir in the dried herbs and season with some pepper.

Pour the egg mixture into the frying pan that has the pasta and vegetables, and cook over a low heat for 4 to 5 minutes, without stirring, to set the base. Meanwhile, preheat the grill to medium-high.

Put the frying pan under the grill and cook for 4 to 5 minutes until the surface has set and is golden brown.

Remove from under the grill and leave to cool for a minute. Cut into 4 slices and serve with a side of vegetables or a salad.

Information:

If adding to a packed lunch, let cool completely before cutting into wedges. Wrap the slices in cling film or greaseproof paper and keep in the fridge until needed.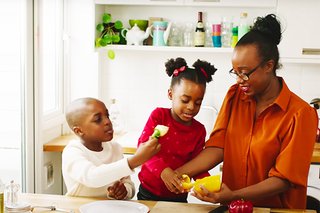 Get the family involved and make tasty meals from scratch!
Every week for 4 weeks you will get 2 healthy recipes – with videos, easy-to-follow instructions and a shopping list – straight to your inbox.